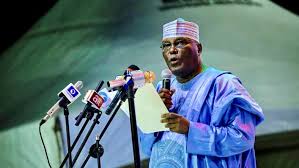 With one week to the general elections, the main opposition party, the People's Democratic Party (PDP) has put off its scheduled presidential rally in Abuja, blaming the ruling All Progressives Congress-led federal government and the presidency of withdrawing approval to use the Old Parade Ground, Garki, Abuja.
The party had scheduled its rally for Saturday, February 9, 2019.
"This is in spite of the fact that the PDP had made payments to the authorities and obtained official approval to host the mega rally at the Old Parade Ground, Garki, Abuja," the party's campaign said in a statement by spokesman Kola Ologbondiya.
The campaign said it would announce a new date for the rally soon.
"The PDP invites Nigerians to document this provocative action against our party and our presidential campaign by the Buhari Presidency and the APC.
It is also instructive to state that we had earlier scheduled our Lagos Mega Rally for the Tafawa Balewa Square on Saturday until the Buhari Presidency and the APC came up with same date forcing our campaign to opt for Abuja.
We hope they will allow the Lagos Rally to hold on Tuesday.
While we regret the inconveniences caused by the insensitive action of the Buhari Presidency and APC, we wish to inform that a rescheduled date for the rally will be communicated soon," the statement added.