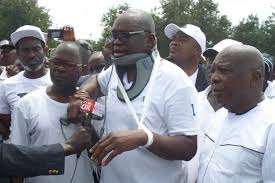 The Deputy Inspector General of Police, Operations, who is also in charge of Saturday's gubernatorial election in Ekiti state, Mr. Habila Joshua, said he never ordered his men to attack members of the Peoples Democratic Party (PDP).
He also said he was not aware of any attack on the state governor, Ayo Fayose insisting that all that his men were doing was to keep the peace as well as maintain law and order, ahead of Saturday's governorship poll.
"We are not here to usurp the authority of the Governor but we are not going to allow any authorized rally that can trigger violence in the state. You can see that the state is tensed up," he told journalists.
"As law enforcement agents, we must be proactive and take actions that can prevent crisis rather than trying to quell it after it might have broken out."
According to him, the Government House was not being blocked contrary to the claims by Gov Ayo Fayose.
The police DIG said his men only blocked the road from Fajuyi area of the state secretariat, on the Ado-Ekiti-Ilesa Road, to stop miscreants.
He promised to probe the alleged attack on Fayose and brief the media afterwards.
NAN reports that armed policemen on Wednesday stopped a rally scheduled to take place at the new Pavilion located at Fajuyi, which is within the vicinity of the Government House.
The policemen shot into the air as they dispersed the PDP members who were called by Fayose for a rally in support of Prof Kolapo Olusola-Eleka.
Fayose, who got wind of the development, came out of Government House to find out the cause of the pandemonium.
The Policemen rebuffed the governor for challenging their mode of operations, leading to verbal altercations.
When the ambience became rowdy, the police used the teargas, with the governor claiming later that he lost consciousness, that his neck was sprained and was rushed to hospital.