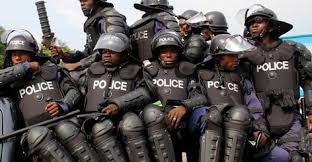 Thousands of students, teachers and lecturers at the Ramat Polytechnic, Kashim Ibrahim College of Education, Arabic College, Government College and Yerwa Girls Secondary Schools among others were prevented from entering their classes and academic activities disrupted following an early Monday morning protests by armed mobile policemen on the major streets of Maiduguri, the Borno state capital.
Some of the teachers, Mallam Audu Ibrahim and Modu Isa who spoke to our Correspondent said, "They could not bear the heavy sounds of gunshots with fleeing bullets around their school premises which is a stone throw to the Police Command Headquarters, venue of the protest, hence, they have no option than to flee for safety.
The protests according to some of the Police Officers was not unconnected with their seven months unpaid allowances in complementing military effort fight Boko Haram insurgents.
The aggrieved Mobile Police Rank and File Officers insisted that their allowances be paid with immediate effect or else they will disrupt socio economic activities and other official duties at the State Police Command and other areas in the state capital.
One of the protesters who did not want his name in the print based their allegations on the corrupt attitudes of Police Authorities for nonpayment of their 7 months outstanding allowances, promotions, ill- treatment and overstayed in their Special Operations in the state.
Unfortunately, some of the aggrieved protesters started shooting sporadically including teargas which led to many students, teachers, motorists and passersby ran for safety to avoid been caught off in the protest.
The armed Protesters matched in their hundreds to the Borno State Police Headquarters located on the major highway in the town, where they were prevented from having access into the police complex to register their grievances.
This situation led to sporadic gunshots in the air scaring motorists and pedestrians within the vicinity, as most of the major streets leading to the city were barricaded.
Some of the officers, who spoke to our Correspondent, lamented that since January 2018, when they were deployed to the state on special operation, they have not be given their allowances.
They complained that many of them have had to go through inhuman treatment as they have to sleep on the corridor of the office on returning from duty at night.
When contacted on phone, the Borno Police Commissioner, Damian Chukwu did not pick his phone at press time. Details later.
NAN