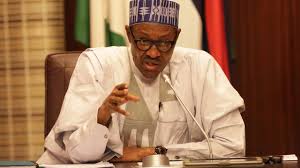 The Enugu State chapter of a pro-Buhari group, operating under the platform of Buhari Support Organisation (BSO), has thrown its full weight behind the president's 2nd term in office, saying he needs eight years "to consolidate on his achievements in revamping Nigeria's decayed infrastructure and war against corruption."
The group said the 2nd tenure would also enable the president tackle other issues including insecurity, hence laying a solid foundation for economic prosperity.
The group, however, called Minister for Women Affairs, Jummia Alhassan a 'liar and agent provocateur', for claiming that President Buhari told her that he will stay only one term in office, insisting that President Buhari at no time told anybody that he would not run in 2019.
In a statement made available to newsmen on Sunday which was signed by the State Chairman, Chief Anike Nwoga, BSO said "whereas Women Affairs Minister, Jummia Alhassan has the inalienable right to support anybody of her choice for president in 2019, they were of the candid opinion that President Muhammadu Buhari should complete his 2nd Term.
"From all our interactions and that of our leadership, with President Buhari before the election, there was no day the issue of one term was discussed, rather from day one we had always known that the rot left behind by the successive Peoples Democratic Party (PDP) squandermania regimes was deep and that President Muhammadu Buhari needed eight years in order to cleanse the Augean Stable.
"And to be exact he needs to consolidate the war against corruption, insecurity in the land and to consolidate the solid foundation for economic prosperity all we in the BSO is praying to God is to guard and give President Muhammadu Buhari good health to complete the good works he is doing in revamping our critical infrastructure, Enugu Coal, 2nd Niger Bridge and so on." Chief Anike said.
On President Buhari's skewed appointments which seem to have marginalised the South East, Chief Anike said, "We are sure Mr. President is going to readdress the imbalance, BSO has always focused more on fixing the decayed infrastructure nationwide which will provide employment, alleviate poverty and cushion poverty. Because we know that there will be overhaul and more appointments, we view appointments as temporary and transient."
"Remember that during the 2015 presidential campaign we told our people that after President Buhari's 2nd Term, it will be the turn of the South East. For the zoning convention favours Ndigbo because our brethren in the South West and the South South had 8 years and 5 years stint at the presidency respectively after our return to civil rule in 1999.This is why we told His Excellency, Owelle Rochas Okorocha not to challenge the zoning convention
Nwoga equally took a swipe at former Vice President Alhaji Abubakar for claiming that he was sidelined after he contributed in installing the President Muhammadu Buhari led APC federal government, arguing that if he was indeed sidelined, how come Garba Shehu, Dauda Abari, Jumai Alhasssan the agent provocateur and a host of others are close aides of Mr. President?
African Examiner reports that both the social and mainstream media have been agog in the past few days with videos of Alhasan's Salah visit to Atiku where she threw her weight behind the 2019 presidential ambition of the former Vice president, saying even if Buhari decides to run in 2019, she would support her godfather, the Turaki Adamawa.
The Minister , went further in an interview with the Reuters news Agency to announce that President Buhari vowed to stay for only one term in office, to clean up the mess of the former ruling People's Democratic Party (PDP).