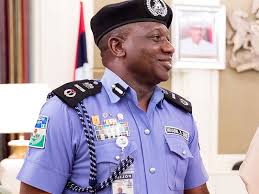 The Police have insisted that the Senate President, Dr Bukola Saraki, must honour their invitation for questioning about the Offa bank robbery or be forced to do so.
"If the Senate President refuses to honor the invitation, police would not hesitate to use all the instruments of the law to ensure compliance with the law," the Force Public Relations Officer, Jimoh Moshood, said in a statement on Tuesday.
The police also denied deploying personnel to the resident of the Senate President on Tuesday morning.
"The Nigeria Police Force's attention was also drawn to the innuendos in the early hours of today (Tuesday) that some policemen were seen surrounding the residence of the Senate President; the Force wishes to categorically state that there was no authorised deployment of police personnel to besiege the residence of the Senate President or his deputy as reported in the media," Moshood said.
"The police personnel seen in pictures in the media were those in the convoy of the Senate President and others attached to him."
The police had issued a statement on Monday, asking the Senate President to report to the head of the investigation team at the Intelligence Response Team Office in Asokoro Extension Abuja, at 8 am on Tuesday.
According to the police, Dr Saraki was needed for "further investigation on his indictment from confessional statements from some of the five gang leaders arrested for their active participation in the Offa bank robbery".
More than 31 persons were killed in the robbery which occurred on April 5, 2018.
However, the Senate President, who had previously denied having anything to do with the robbery, restated his position in a statement hours later.
Apart from insisting he had nothing to do with the robbery, he accused the police of politicising their investigation.
"The police have obviously corrupted and politicised their investigations into the Offa robbery incident," he alleged shortly after the news of his invitation broke, he was quoted as saying in a statement by his Special Adviser on Media and Publicity Yusuph Olaniyonu.
"They have turned it into an instrument for the party in power to suppress perceived opponents, witch-hunt issue for blackmailing people from freely choosing which platform on which they want to pursue their ambition, and a matter for harassing the people whose exit from APC would harm the chances of the party in the forthcoming elections."
The Police in their haste to embarrass me sent the invitation to me at 8pm and requested that I report to the station by 8am tomorrow morning. This obviously demonstrated their desperation as I do not see why they are now in a hurry.