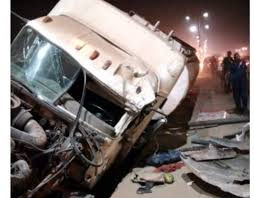 A tanker laden with Premium Motor Spirit (PMS), also known as petrol, has crashed along the Lagos-Ibadan Expressway.
The incident occurred at about 5:10am on Christmas Day around the RCCG Car Park C in Mowe on the outward Lagos section of the highway.
This has resulted in a gridlock on both sections of the road, the spokesperson for the Federal Road Safety Corps (FRSC) Ogun State Command, Florence Okpe, said in a statement.
The tanker was said to be conveying petrol before it crashed into the barriers, although the FRSC said it was managing the situation.
Okpe revealed that the agency immediately contacted the Fire Service and Julius Berger Nigeria PLC Emergency Team to commence transloading and removal of the crashed tanker and eventual realignment of the displaced barriers, to restore traffic.
"The FRSC hereby advises the early morning travellers going on far journeys to seek alternative routes away from the Lagos-Ibadan Expressway via the Long Bridge to Mowe.
"The alternate corridors available are the Victoria Island-Ajah- Ijebu Ode Corridor and the Lagos-Ota- Itori-Abeokuta Expressway, considering the period it could take to transload the PMS in the crashed vehicle to another empty tanker, remove the crashed vehicle from the ditch, replace the road barriers the crash displaced and restore traffic," the statement said.
The State Sector Commander, Clement Oladele, also appealed to motorists to note the traffic occurrences and bear with the inconveniences.
He gave the assurance that the FRSC rescue team was working with sister traffic and emergency agencies to restore free vehicular movement in the area.