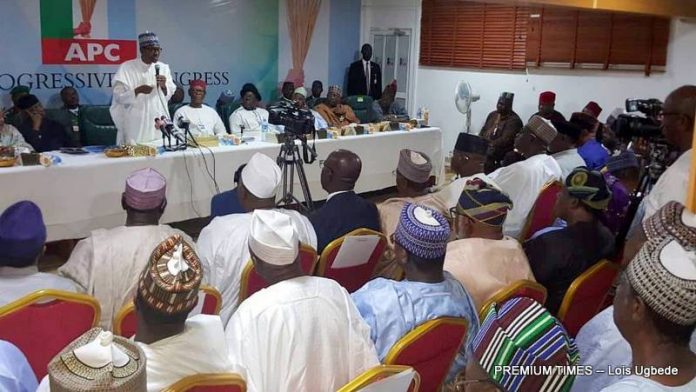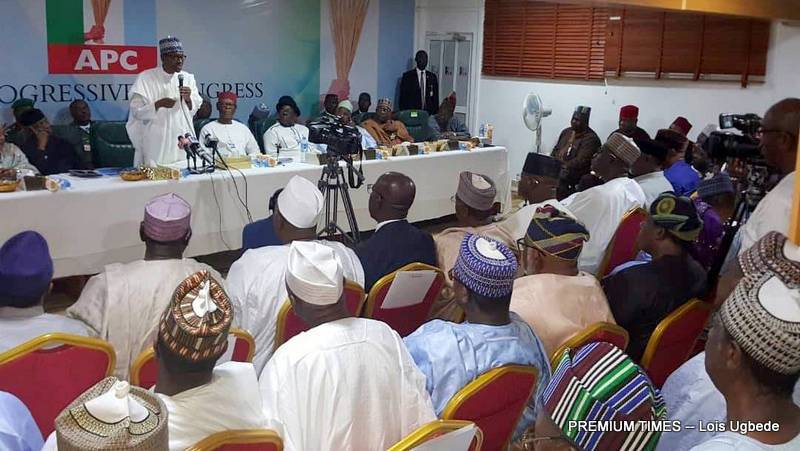 Former Lagos State Governor, Bola Ahmed Tinubu, yesterday lauded the decision of President Muhammad Buhari to declare illegal the tenure elongation granted All Progressives Congress National Chairman, Chief John Odigie-Oyegun, and other executives of the party.
President Buhari had at the on-going National Executive Committee meeting of the APC in Abuja yesterday, labeled the extension of the tenure of the party's office holders as illegal and ordered its reversal.
Buhari cautioned APC bigwigs against actions that are at variance with the party's constitution and the country's constitution, so as not to create loopholes for the opposition to pounce on.
The party's National Working Committee had, with the prodding of some APC governors, on February 27, 2018, extended the tenure of Chief Oyegun and those of other party executives at national, state, local and ward levels.
Tinubu kicked against this decision, arguing that it does not augur well for internal party democracy, a stand that appeared to pitch him against Chief Oyegun and some of the APC governors.
Reacting to President Buhari's declaration yesterday, Tinubu said it was a big day for democracy and for the development of the APC.
In a statement, the former Lagos State Governor said Buhari's stand has prevented internal legal tussle and crisis.
As he put it, "President Buhari's action saves the party from serious legal turmoil. If the elongations were deemed illegal then all subsequent party actions, including the nomination of all of our candidates for elective offices, might also be of questionable legality. Such a predicament would constitute an unnecessary and mortal blow to the party and its role in promoting progressive governance to Nigeria".
He added that Buhari's stand underscores the party's position on the rule of law and firm adherence to internal party democracy.
"While it would have been easy to allow the ill-conceived motion of 27 February to stand, President Buhari showed principle and courage by steering the party back to its original and correct path, Asiwaju remarked.
Tinubu who is absent at the APC NEC meeting, harped that the President's action would strengthen the party by allowing party members, including present incumbents, to seek to contribute to the party by vying for executive offices as they deem fit.
With Buhari's order, the APC is expected to race against time to hold congresses for election of the party leaders at all levels, before the 2019 general elections.
The APC congress continues today in Abuja where the party is expected to take a stand on the agitations for restructuring of the country.
APC National Chairman, Chief Oyegun, had on Monday after the party's National Caucus meeting, told journalists that the party was not against restructuring of the country.
He had then remarked, "today we discussed true federalism, something a lot more serious", apparently trying to deflate questions from journalists regarding whether the caucus meeting discussed tenure elongation granted to the party leaders.