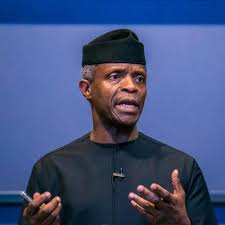 By Dele Sobowale
We are confident in our party and the reason we are confident is that we are not thieves, we are different… – Vice President Yemi Osinbajo, May 5, 2018.
Really?  VP Osinbajo has again proved that there is an Aso Rock disease. People you have known for years and have long respected, get into Aso Rock to assume duty and suddenly, you are shaking your head, wondering if you ever knew them at all. He is the number two official in a government which has openly made barefaced lies government policy. I dwell briefly on their penchant for uttering easily disproved falsehood before going into other matters. Even a fool can see that another whopper had been released by the VP and it is becoming too embarrassing for many of us who laboured hard to support Buhari in 2011 and again in 2015. Osinbajo was not around in 2011.
For A Senior Advocate of Nigeria, SAN, to give such a blanket approval for the members of the All Progressives Congress, APC, is not only unbecoming of a gentleman with such sound credentials, it means that the announcement was premeditated and designed to protect "thieves" (his words not mine) within the APC. Three examples will do to prove the point.
Most readers know a fellow called Musliu Obanikoro, ex-this ex-that and now a respected member of the APC. Until he decamped "Koro" was in the Peoples Democratic Party, PDP. In his capacity as Minister of State for Defence, he had been charged with illegal receipt of N4.8 billion – part of which he allegedly gave to Ayo Fayose to facilitate the election in Ekiti. The Economic and Financial Crimes Commission, EFCC, went to great lengths to portray Musliu as a "thief". Granted, it has also been rumoured that the fellow has refunded some of the money allegedly stolen. But, the nation got back from him less than ten per cent of what he allegedly stole. Are we to believe that someone who had not enriched himself illegally is refunding money to government?
The former Secretary to the Government of the Federation, SGF, was accused of embezzlement of funds meant for the Internally Displaced People programme. After months of protecting the accused Buhari got rid of him. Has he decamped from APC?
Out of about N110 billion released to fund the President's Social Intervention Programme, SIP, only about N6.8 billion was spent on School Feeding. Till today nobody has told us the names of the schools participating and what happened to the rest of the money? The SIP, admitted to have been less than espousing elements of fidelity, is located in Osinbajo's office. Those who live in glass houses should not be throwing pebbles; they might get boulders in return.
As Osinbajo was busy with his failed attempt at investing his party with ill-fitting self-righteousness, the US and the World Bank were releasing reports which point to increasing corruption and poverty in Nigeria under Buhari. Those are two neutral entities which have no reason to run down a government which has nothing to show after three years in office. It takes an unbiased observer to point out that "the Emperor has no clothes". Those writing their own report cards are generally dishonest. It takes men with real integrity to admit failure. Apparently, there is none at the top of government in Nigeria – where the only thing Nigerians are told is the corruption under previous administrations. Yet, they have failed to obtain any conviction.
Now we must take on the Buhari administration on its own terms. Even if we accept all they have been repeating like broken records, does that justify their collective lack of positive achievements? Under Buhari, Boko Haram remains security threat. Herdsmen terrorists have now overtaken Boko Haram and there is no discernible plan to address the situation. The government which had come down hard on IPOB and Shi'ites, none of which has been proved to be terrorist organizations, has allowed Fulani herdsmen to over-run Nigeria. Instead of results what we have received are changing stories. The latest is "blame Gaddafi". Obviously, a vote for Buhari/Osinbajo is also a vote for the continuation of herdsmen terrorism. It will amount to monumental folly on the part of Nigerians to re-elect Buhari and hope that herdsmen will stop killing with impunity. A Life Patron of Miyyeti Allah who are the main backers of the terrorists will not turn against them. To be quite candid, I have assumed that the Prof/SAN/VP has a surer grip on logic. Permit me then to address the nation's number two servant.
So, Mr Vice President, we hear you. The offer you are making to us boils down to this: "Your money or your life". There is no doubt in my mind that the vast majority of sane Nigerians will choose life over money. Of what use is the self-assertion of probity to the hundreds of thousands of Nigerians who had been dispatched to the grave. I can assure you Sir that even you will choose life over money. Why are you now asking Nigerians to continue to support a government which does not care whether they die or not. Worse still, this is government which has no plans for their safety. While there is life there is hope. You can keep the money; the rest of us want to live and Buhari is a danger.
May I also warn you about taking self-righteousness too far. You served as Commissioner of Justice in Lagos State. I was here during those years. From the Chief of Staff to Commissioners and Special Advisers, we know people who went into government during that period as poor as church rats and who emerged stinking rich after eight years. None of their official remuneration package can account for how one fellow now owns half of Alimoso. Those who live in glass houses should not be throwing pebbles.
Before the return to civilian rule in 1999, Buhari was Military Head of State from 1984 to August 1985. During that period, foreign exchange was allocated by the Ministry of Commerce, not Finance. We recollect how the Form M scheme was totally corrupted. We knew people who went into government dirt poor in 1984 and emerged twenty months after made for life. One young chap, not born into a rich family, yet he acquired a private jet in less than fifteen months. Decree 4 introduced by Buhari was his attempt to cover up corruption in his government. Go and read it and if you are honest you should be ashamed of the author of it. So, you are totally ignorant of why Buhari was sacked by his colleagues. Since I have no quarrels with the people of 1984/5 and 1999/2007, there is no need to mention their names. All of them are in APC today.
Before talking next time, you will be advised to go and find out what happened to NITEL when one of yours brought in a foreign company, PENTASCOPE to manage it. You will be shocked to the marrows by what you will discover. What the fellow did to NITEL accounted for NITEL's failure to secure a GSM licence when the opportunity presented itself during Obasanjo's administration.
Incidentally, when Buhari went abroad to claim that none of his predecessors provided infrastructure, he naturally forgot that mobile phones did not exist when he was kicked out in 1985. Did he need the lie to bolster his disappointing credentials?
Surely, you remember that somebody got a top government job by claiming to have graduated from a university he did not.  Or have you forgotten so soon?
Take my advice. If you continue with your ill-fitting self-righteousness and if APC intends to use that as the major campaign plank, some people in that party are going to get hurt very badly. Just change the subject and all will be well with you. Ignore it and you endanger reputations of some of your leaders. A word is enough.
"In every community there is a class of people profoundly dangerous to others…I mean the leaders." Saul Bellow US Nobel Prize Winner.
It never occurred to me in my wildest hallucination that simple primary election featuring two former governors, a serving federal minister and a presidential adviser, all APC members, could end up in such a disgraceful manner. Most of the contestants were people I always regarded as decent citizens; "pillars of society" anywhere in the world.
Instead what the whole world saw was mayhem with which no decent person should be associated. Although not from Ekiti, I felt ashamed for the APC Ekiti State and for my country. Henceforth, all the candidates will be regarded as hooligans. None of them will ever again earn my respect. The real thugs are not those who snatched the ballot boxes and scattered the papers. They are only agents of the hooligans in designer suits who paid them.
If this is the best APC can do, Buhari and other party leaders better fold tents and go home. Who needs criminals in office?