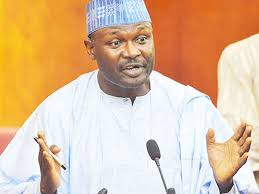 The Independent National Electoral Commission (INEC) has published the forms and particulars of political parties' candidates submitted for the 2019 general election.
Not less than 76 presidential aspirants were included in the list.
NAN reports that the list was displayed outside the INEC federal capital territory office.
The particulars of the presidential candidates already pasted included President Muhammadu Buhari of the All Progressives Congress (APC) and that of his Vice-President, Yemi Osinbajo.
Also published was the particulars of Atiku Abubakar, presidential candidate of the Peoples Democratic Party (PDP), and that of his running mate, Peter Obi.
Others include Obadiah Mailafia, presidential candidate of African Democratic Congress (ADC), and Tanimowo Nasiru as running mate.
Also on the list was Donald Duke for the Social Democratic Party (SDP) and Junaid Mohammad as running mate.
Also pasted was the particulars of 22 candidates for one FCT senatorial district seat and 24 candidates for two FCT House of Representatives seats.
A source at INEC said the ballot paper for the presidential election would also be long, adding that the announcement of election results in 2019 might even take longer.