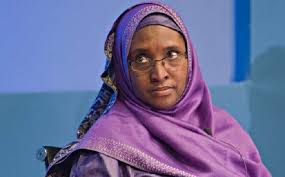 The Federal, states and local governments have shared N698.710 billion for September.
Minister of Finance Zainab Ahmed, who presided over the monthly Federation Account Allocation Committee (FAAC) meeting, stressed the need for the tiers of government to save.
The Minister told members of the committee to maintain transparency and save for the rainy day.
A communique by the Technical Sub-Committee of FAAC after its meeting and signed by the Accountant-General of the Federation Ahmed Idris noted that the distributable statutory revenue for the month was N569.281 billion and the total revenue distributable for the month stood at N698.710 billion.
"Crude oil export sales increased by 0.17 million barrels resulting in increased revenue to the Federation of $8.48 million. However, the average unit price dropped from $77.10 to $75.69.
"There was shutdown of pipelines which resulted in shut in of production at various pipelines. Revenue from Royalties increased significantly while Value Added Tax (VAT), Petroleum Profit Tax (PPT) and Companies Income Tax (CIT) decreased significantly."
The breakdown for the month of September shows that the gross revenue available from the VAT was N79.154 billion as against N114.542 billion distributed in the preceding month, resulting in a decrease of N35.388 billion.
The report also indicated that while the federal government got N277.197 billion, the state and local governments got N172.810 billion and 130.534 billion respectively. Derivation (13% of mineral revenue) amounts to N52.596 billion and cost of collection/transfer and FIRS Refund was put at N15.572 billion.
"The distributable Statutory Revenue for the month is N569.281 billion. The total revenue distributable for the month (including VAT and Exchange Gain Difference) is N648.710 billion."
The report of the committee on the Excess Crude Account (ECA) was stepped down and withdrawn to enable the committee to rework and represent it at the next meeting.