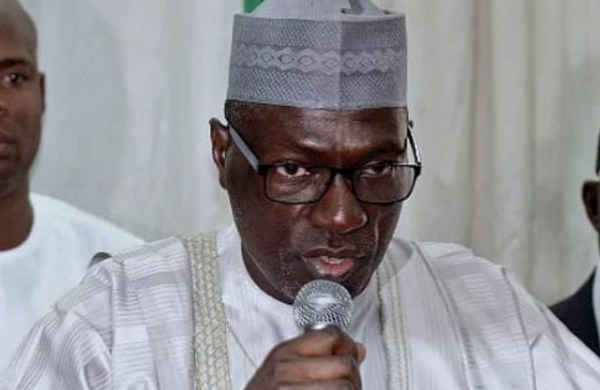 Former Kaduna State Governor and immediate past National Caretaker Committee Chairman of the People's Democratic Party (PDP), Senator Ahmed Mohammed Makarfi has declared his intention to contest for Nigeria's presidency under the platform of the PDP.
Makarfi expressed optimism that his party will wrestle power from the ruling All Progressives Congress (APC), saying that APC has been working for the PDP by refusing to govern well.
Makarfi who made the disclosure in an interview with journalists in Kaduna on Sunday said he has consulted widely and arrived at a conclusion that is was okay for him to contest for the Presidency.
"I have been consulting across the country since I left as the chairman of the party. It is just consultations and not endorsement. But it gives you an opportunity to feel the pulse and it will tell whether to go forward or not to go forward. The consultations have been quite positive and I believe it is fair enough to come to the conclusion that one should join other equally capable party men and women who have shown interest in seeking the party's nomination for the 2019 presidential election.
"At this stage, it is to seek for the party's nomination. The successful nominees will become the candidate that will stand for the election. But first thing first. If one's party does not put him forward, you can't say you are contesting for presidency yet. At this stage, I have come to the conclusion that it is okay, based on the consultations that I have had."
The two-term Governor and two-term Senator from Kaduna State said he knows governance and has what it takes to govern Nigeria, after successfully governing a complex state like Kaduna for eight years.
"I have known governance for some time at state level. I served Kaduna for three years as commissioner for finance and economic planning. I came in from the private sector. I have private sector experience, especially banking. I governed this complex state for eight years. I have legislative experience, having been in the Senate for a two-term of eight years. I got a bonanza when the party leadership fell on my laps, to know about managing political party.
"If you cannot manage your party, even if you are elected, you will have problems governing. If you can't manage the legislature and build cordial relationship such that key legislation that can take this country forward are passed, then governance becomes complex for you. If you cannot manage complex society such as Kaduna, which is a mini Nigeria, you cannot manage Nigeria. God has so designed that one has passed through all these processes.
"These, to me, are advantages but of course it does not mean that it is a foregone conclusion. Somebody who may not have prepared himself in governance at all may find himself in government but the country will pay a price for that. I believe I have these advantages.
"Managing complex security issues are not new to me. Managing complex people of societies is not new to me. If you look at it from that perspective, I am prepared for the job. I served as the Governor of Kaduna state where I was able to mobilise the citizens of Kaduna state, irrespective of where they came from in Nigeria, earned their confidence and they worked with me and supported me and we were able to restore normalcy that people thought was impossible.
"If I am nominated and eventually gets elected, my philosophy will not be to go after opposition. It is to see how I will work with the opposition in any area for the good of all of us while maintaining our independent political opinion over any matter. That is how you can bring Nigerians together. And that is when people will not even have any need to cross carpet. If I get nominated and get elected and I find somebody in APC who can help me do what I want to do, I will look for you without demanding that you join the PDP. I will leave you to make that decision on your own, that is the kind of politics that I want to see happening in Nigeria," he said.
Speaking on the chances of his party, Makarfi said, the crisis rocking the ruling party is an advantage for his party, adding that the PDP needs to thank APC for refusing to govern well and mismanaging its internal crises.
According to him, "We must also thank the APC for working for us because they have been working for us. They have refused to govern well; they have been fighting each other. They are many things for which we can thank them. There is no way the executive and the legislature can work again as one. There is no way the party can be cohesive again. There are elements in government fighting each other and there is nobody to call them to order. We should not expend our energy when somebody is working for us.
Makarfi, however, gave Buhari's government a thumbs-up on the fight against insurgency but said the successes recorded would have been overwhelming if the institutions of the government had worked together.
On the fight against corruption, the PDP Presidential aspirant said the fight was selective against the opposition. He, however, warned that the institutions of government should not be used to fight the political opposition, as that will spell doom for the country.
(The Nation)