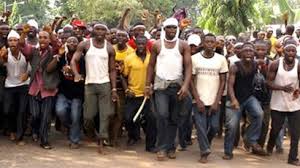 Ex-militants, under the aegis of Justice Group, have urged President Muhammadu Buhari to prevail on the Coordinator of the Presidential Amnesty Program, Prof. Charles Dokubo, to integrate them into the programme.
The 3,000 made the call in a letter claiming that they were marginalised by past leaderships of the amnesty office and the Federal Government.
In the letter written on their behalf by their solicitor, Mr. R. Inabowa, they said: "Recently, few executive members of the Justice Group met with the Special Assistant to the President on Niger Delta with assurance that in a few weeks, he will ensure that we are included in the scheme.
"As requested after our meeting with Prof. Charles Dokubo, we sent documents, publications and some JTF reports for his perusal.
"In the meeting, the ex-agitators pledged their loyalty and readiness to work with his office for mobilization and intensive campaign in the Niger Delta region for the All Progressives Congress (APC) ahead of the 2019 general election if given a sense of belonging."