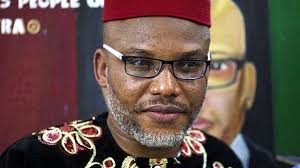 Nnamdi Kanu, leader of the Indigenous People of Biafra (IPOB), has called off the election boycott in the south-east region of the country.
In an audio message obtained by TheCable, Kanu also asked the Igbo to come out in their numbers and vote during Saturday's presidential election.
Kanu had been calling on the Igbo to boycott any election held in Nigeria until the government agrees to a referendum regarding IPOB's quest for a sovereign state of Biafra.
On Wednesday, just two days ago, he told BBC Igbo that IPOB will 'shut down' the south-east and ensure voting does not take place in the area.
WHAT CHANGED NOW?
In the broadcast obtained Thursday night, Kanu said unnamed individuals have met the demands given by the group before any election could be held in the south-east.
He said: "Earlier today, February 14, 2019, I received confirmation from our team that all of our pre-conditions played before those kicking off to call off the elections have been met. And in view of that, I hereby lift the boycott of elections.
"IPOB was very steadfast, we have fought a very good battle; we have made it very clear to all and sundry that we are very determined and this is victory for IPOB and for the emancipation of Biafra."
Kanu expressed hope that those who agreed to the group's demands will implement them.
He asked the Igbo to spread the "good news" but added the group's resolve remains the same: a sovereign state of Biafra.
"We said it from the beginning, nobody should expect us to participate in any form of elections unless our demands are met. And I am glad to tell you that they have acceded to our demands and it will be fully implemented," he said.
"I therefore ask each and everyone of you to take this good news to all our towns and villages that the boycott has been lifted. And we will all go about on the 16th of February to discharge whatever duties we have or whatever beliefs … for groups and individuals.
"Never again will they take IPOB for granted, and never again will people underrate our resolve. We have showed it to them and we shall continue to demonstrate it until Biafra republic is restored. I thank you very much and may God be with you."
It is not clear who the IPOB leader is rooting for in Saturday's presidential election.
But it is obvious neither of the two front line candidates – President Muhammadu Buhari of the All Progressives Congress (APC) and Atiku Abubakar of the Peoples Democratic Party (PDP) – has his support.
While he claims Buhari is "dead" and being replaced by a "clone" in Aso Rock, he says Abubakar is a Cameroonian by birth and does not have the constitutional right to run for president.