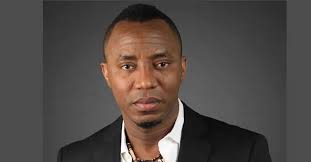 National Executive Committee (NEC) of the African Action Congress on Monday sacked its National Chairman, Mr Sowore Omoyele and named Dr Leonard Nzenwa as the acting National Chairman of the party signaling an end to the leadership crisis rocking the party. Dr Nzenwa was until March 27 the National Secretary of the party.
The party had earlier at its second NEC meeting in Abuja also suspended nine other NEC members of the party for alleged corruption and anti-party activities.
NEC had in a letter inviting the former National Chairman of the party dated March 13, 2019 accused him of  misappropriation of funds and  failure to comply with the statutory requirements of the party to hold NEC meeting over a long period of time.
The party in the said seven day notice asked him to appear before the NEC to clear himself of the said allegation.
The notice of seven day summon was in accordance with article 51 (i) (ii) and Article 52 (n) of the party constitution.
He was alleged to have enjoyed inflow of foreign funds into the party and retaining same personally in contravention of section 225, (3) (4) of the 1999 constitution.
The party leadership had also in a letter to the Independent National Electoral Commission (INEC) dated April 25 confirmed the suspension of Mr Omoyele Sowore and nine others in accordance with Article 52 (k) of the party.
The party has therefore asked INEC and any other person or group of persons to henceforth recognise Dr Nzenwa as its Acting National Chairman.
The Acting National Chairman of the party and other members of the new NEC were sworn in 13th May, 2019 at the 3rd NEC meeting of the party.
The Acting National Chairman in a remark shortly after his inauguration however extended the olive branch to the former national chairman of the party and other suspended members.
"I hereby urge the former National Chairman of our great party and others to see the change of guard as a timely action taken in the best interest of the party," Nzenwa said.
He said the party would no longer tolerate indiscipline, corruption and any other anti-party activities by members, assuring that his new team would reposition the party for greater Electoral fortunes adding that "it will no longer be business as usual"
He regretted the huge set back the poor leadership of the small cabal led by Mr. Sowore may have caused the party and promised to run a transparent, and result oriented administration.