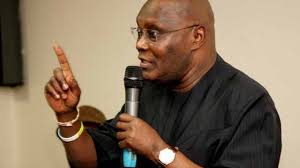 The former Vice President, Atiku Abubakar, has said that President Muhammadu Buhari's government and the All Progressive congress (APC) had side-lined him.
Atiku in an interview aired on the Hausa Service of the Voice of America (VOA), said he had been sidelined despite the fact that he used his contacts and resources to defeat the Peoples Democratic Party (PDP) in 2015.
"Honestly speaking, I'm still a member of the APC; I was part of all the processes, including campaigns until success was achieved.
"But sadly, soon after the formation of government; I was side-lined, I have no any relationship with the government, I've not been contacted even once to comment on anything and in turn, I maintained my distance. They used our money and influence to get to where they're but three years down the lane, this is where we are," Atiku said.
"Yes, there were successes but not comprehensive success because the Boko Haram miscreants are still very active, killing our people and many local government councils in Borno and Yobe are under their firm grip. People cannot dare go back to their dwellings
"This thing baffles me; I never imagined that Nigeria will fight a protracted battle with Boko Haram for five years. At a time, we fought the Biafra war, which was more complicated because of the terrain in the South but the Biafran soldiers were roundly subdued in 30 months. But here we're, fighting an endless battle with the Boko Haram and there's no end in sight," he said.
"When we came on board in 1999, I remember we recovered between $4.5 and $4.7 billion from those that looted under (Late Sani) Abacha."