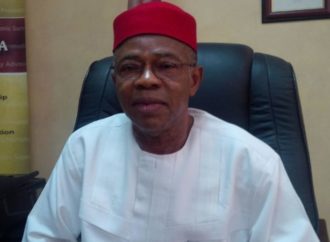 The Manufacturers Association of Nigeria (MAN) has charged the Federal Government to ensure an inclusive economic growth so that the people can feel the positive impact of Nigeria's exit from recession.
President of MAN, Dr. Frank Udemba Jacobs who gave this charge at a press briefing to announce the programmes of the association's 45th Annual General Meeting (AGM) scheduled to hold on September 13 and 14 2017 in Lagos, said it may be true to say that the economic growth of 0.55 per cent is good, "The question remain, is this growth real, is it sustainable and can it engender inclusiveness?" he said, adding, "Technically, inclusivity is not something that one can assume. The impact of a positive improvement like this should ideally be felt by all classes of citizens in our country before one can boldly assert that a growth experience is inclusive."
He said though this not withstanding, based on the report of the National Bureau of Statistics (NBS), it appears the growth rate is a positive development and that the Nigerian economy has summarily exited recession in the second quarter of 2017.
On the 45th AGM of MAN, Jacobs said that the two day event with the theme: 'Recovery and Growth of the Nigerian Economy, will feature an interactive session with the Governor of the Central Bank of Nigeria and the Comptroller General of Customs as well as Manufacturers Annual Lecture to be delivered by the former president of Tanzania, His Excellency, Mr. Benjamin William Mkapa.
He said the topic of the lecture is 'Sustaining Economic Recovery: Gleaning From the Tanzanian Experience.
He informed that the choice of the speaker was based on his experience in managing an economy that experienced serious economic challenges like Nigeria's. "Prior to his assumption of office in 1995, Tanzania's economy was state controlled, but by 2005 when he completed his tenure, Tanzanian economy moved from a command economy to a market economy," the MAN president said, adding, "We believe that the valuable experience he will share with us will further enrich our macroeconomic policy thrust."