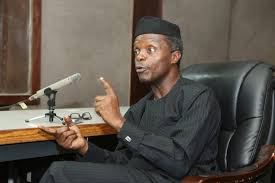 Acting President Yemi Osinbajo has signed yet another executive order backing the implementation of the voluntary assets and income declaration scheme (VAIDS).
The order was signed on Thursday morning at the state house banquet hall in Abuja to ensure that the scheme, as designed by the ministry of finance, is backed by the full force of the law, leads to the payment of taxes and punish offenders after the nine-month grace period.
TheCable reports that Osinbajo, who declared the scheme open, quoted Benjamin Franklin, one of the founding fathers of the United States, who stated that "in this world nothing can be said to be certain, except death and taxes.
"When people pay taxes they pay more attention to what Govt is doing. There's a greater level of political and social consciousness," Osinbajo said.
"Taxes not only about boosting government revenues. When people pay taxes they hold government to account more. Only 214 Nigerians pay taxes of N20 million or more each year. A personal tax bill of N20 million implies personal income of N80 million.
"All of these 214 Nigerians who pay N20m or more in taxes annually are to be found in Lagos State. I'm sure in this room (and I'm not looking at anyone), there are another 214 people who earn more than N80 million annually.
"Tax evasion not limited only to wealthy Nigerians. Also not limited to individuals. Many companies maintain 2-3 sets of books."
Osinbajo said Nigeria is now party to the new global standard on Automatic Exchange of Information (AEOI), which kicks off 2018, and would facilitate apprehension of tax evaders.
"Starting today, every Thursday will be tax Thursday across Nigeria, for tax enlightenment and awareness. Today I declare that paying Taxes is our duty to our nation, and I declare the Voluntary Assets and Income Declaration Scheme open," he concluded.