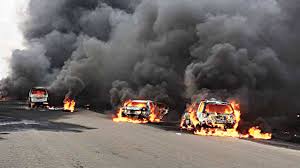 Lagos State Governor, Mr Akinwunmi Ambode on Thursday evening visited the scene of the tanker explosion which occurred on Otedola Bridge inward Ojodu Berger along the Lagos-Ibadan Expressway, describing the incident as sad and unfortunate.
The incident, which occurred at about 5pm, was said to have left over 50 vehicles burnt and nine people including a minor dead.
Governor Ambode, who visited the scene at about 9:30pm where he was briefed by Commissioner for Special Duties and Intergovernmental Relations, Mr Seye Oladejo, among other emergency response agencies, particularly commiserated with the families of the victims and those who lost their properties to the incident.
Addressing journalists at the scene after assessing the situation, Governor Ambode also directed the emergency responders and relevant government agencies to ensure the immediate removal of all the burnt vehicles from the road so as to open it up again for traffic.
"This is quite unfortunate; we are actually on the spot to see what is happening here and like most people must have been aware, this is a tanker that was carrying 33,000 litres of PMS attempting to climb on the Lagos-Ibadan Expressway towards the Kara Bridge and unfortunately maybe lost control and then spilled almost all the 33,000 litres on the road and there was an explosion which caught up with a lot of vehicles.
"At the last count, we have about 50 vehicles burnt and nine bodies also recovered from the scene. In all of this, I am happy that our response team has been up and running. The response time to this part particular incident was less than three minutes and if not for that, a whole lot of things would have really gone wrong.
"I want to praise all our agencies – the Fire Service, the Rapid Response Squad (RRS) and also the Lagos State Emergency Management Agency (LASEMA) Response Unit. This is what we have been saying about investing in some of these infrastructure and equipment. Nobody knows when this kind of incident will happen next but the most important thing is that our response time should be up and running and be able to save lives," the Governor said.
Governor Ambode said though lives were lost to the unfortunate incident, but that he would take solace in the fact that more lives were saved, just as he admonished residents to always give access to emergency responders during such incidents.
"I want to commiserate with all the families of those that have lost their lives. We never wish for incidents like this but again we take solace in the fact that we were able to save more lives. Right now, we would make sure that this traffic is cleared immediately within 30 minutes to free the major highway because we have to continue to use it.
"I also want to appeal to Lagosians that we don't like to see onlookers; there is a need to always give way for our first responders and all our agencies to save lives quickly and that is the whole essence of having the Response Unit," he said.
While commending the people for their patience, the Governor assured that the State Government would continue to put measures in place to mitigate such incidents in future.
"I want to also thank the people for being patience with us. We will continue to do our best and ensure that we mitigate things of this nature in future," Governor Ambode said.