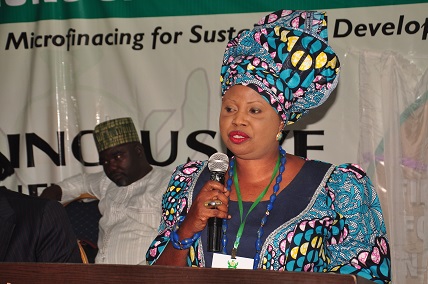 The National Association of Nonbank Microfinance Institutions in Nigeria (ANMFIN) has rolled out plans that will ensure the future survival of the association as a platform for the un-served and underserved microfinance operators in the country.
Amidst challenges of self regulation and lack of capacity among practitioners, ANMFIN says it has a target of becoming the best microfinance network in Africa by the year 2020.
National President of the Association, Princess Adesola Ogunleye who stated this at a meeting with the National Executive officers and Members of the Board of Trustees of the association, held at the association's secretariat in Abuja on Monday, said all hands must be on deck to ensure the realization of the set goal.
Princess Ogunleye who was optimistic that the association would soon catch up and bridge the gaps in the areas of training, capacity building and accessing funds by its members, said, a Consultant, Paul Ashu Think Tank Ltd has been engaged to work with the association towards achieving the set objective.
"Time was running out fast but the path of growth and development of the association is guaranteed in view of the appropriate measures put in place to carry every stakeholder along," the President assured.
According to her, the extra-ordinary meeting was convened in view of the urgent need to review areas of challenge in the association, by charting a way forward for its members, strengthening working relationships with development partners, while taking advantage of existing opportunities available in the public and private sectors of the economy.
ANMFIN, according to Princess Ogunleye, would now take its rightful position in the economic development of the country, while providing the needed financial support and training to its members in the bid to ensure best practices among practitioners of micro, small and medium businesses.
She said, henceforth the core values of the association of promoting micro-financing, advocacy, self regulation, training and capacity building as well as linking members to financial services through technological services would remain key in the pursuit of ensuring best practice among microfinance practitioners before the year 2020.