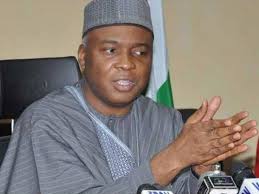 The Senate President and one of the presidential aspirants of the Peoples Democratic Party, Dr Bukola Saraki, has declared that those plotting to impeach him after the National Assembly reconvenes won't succeed because they don't have the number to do so.
Saraki, who said this while responding to questions from newsmen at the PDP Secretariat in Minna, stated that the decision of the upper chamber of the National Assembly to go on recess was unanimously agreed and in accordance to the rule of law.
"They don't have the number to impeach me if we reconvene," he boasted.
"Those who are accusing us of an undue process in the adjournment are unaware that we are in the majority. They know they don't have the locus standi.
"It is important to note that when we adjourned, it is with the total support of everyone, not that we stayed in a corner or in the dark because there is a due procedure where at the end of the session, they will vote for that.
"It was proposed and seconded. We took minutes and we also even waited and went through the rules and proceedings of the Senate. It was not anything done out of mischief.
"The most important thing is that, at any time, I will never sacrifice the interest of this country for my own personal interest. In the last three years, my interest is always secondary to the interest of the country.
"The people that are speaking now against it are speaking out of emotions because everyone was there when the decision was taken. It was not that a few of us met somewhere and took a decision.
"Everybody was there, and we all took a decision to adjourn in our normal annual recess. Check the dates we resumed last year, and the year before. There was nothing abnormal about it.
"Those people who are talking against it are just playing politics with it. When it is time for us to resume, we will resume. And all we just want to do now is to see that this country is governed properly according to the rule of law and due process.
"I have always aligned myself with what the constitution says and the tenets of the three arms of government to ensure that we allow the rule of law, and the respect the democratic process."