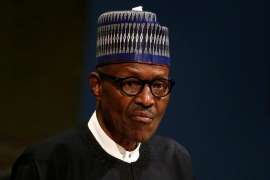 Nigerians have reacted sharply to the appointment of Yusuf Magaji Bichi (fwc), a Kano indigene, as the new Director-General of the Department of State Service (DSS) by President Muhammadu Buhari describing it as 'Tribalistic', 'Bizarre', "Parochial,' 'Shameful.'
The Southern and Middle-Belt leaders in their reaction appeared shocked, dismayed and uneasy with Buhari's new choice as head of Nigeria's spy agency.  And just as alarming for some, President Buhari removed a southerner and replaced him with a northerner.
"Since 1960, Nigeria has never had a leader more sectional, narrow, parochial, and tribalistic like the current President who went on a global stage to divide Nigeria into "97 % and 5%", said a statement jointly signed by Chief E.K Clark (South South) Chief Ayo Adebanjo (South West), Chief John Nwodo (South East) and Dr. Bitrus Pogu (Middle Belt).
"The I-don't-care and in-your-face attitude of the President in restoring Nigeria security architecture to the provocative situation of having 16 out of 17 service chiefs from his corner of the country is a clear demonstration of the fact that Nigeria for General Muhammadu Buhari is no more than his section of Nigeria and the resources and the constitutionally mandatory votes from other sections of the country".
"We have looked critically at the profiles of the Acting DG, who was removed and the one Buhari just appointed and it is crystal clear that Bichi does not come with any experience close to that of Seiyefa.
"The only qualification for this appointment is therefore only the rabid nepotism of the President which has seen him always masking personal and sectional interest as "national interest.
"Besides, Bichi is an out-of-the -system man drafted by Mr Lawan Daura in the days of his nepotism rule at the DSS. The next six most senior persons in line of succession at the DSS after Seiyefa are from our findings are all southerners which may explain why the President picked a man who already retired from the DSS to lead because of ethnic affinity.
"That the President went ahead to deep himself further into the cocoon of ethnic irredentism in making this insensitive appointment shows clearly that he does not care a hoot about the unity, cohesion and oneness of Nigeria.
"We reject this appointment and we do not shy in telling Mr. President that he no longer pretends that the country is one under him.
"In the last few days, there have been fears coming from the international community about the dangers that would come the way of Nigeria if Mr. President returns for another term. With his latest action, we add that the country is not safe in the remainder of his first term.
"Lastly we ask, Mr President, Are we still one county?"
The president was also the subject of criticism in various social media sites over the appointment.