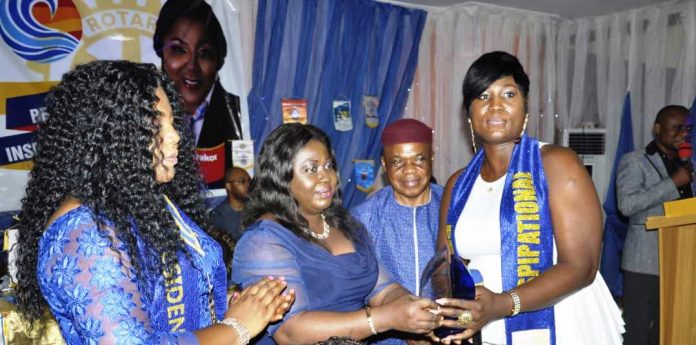 Mrs Vera Onyeaka-Onyilo, founder of the TheoVera Foundation, has won the 2018 Community Service award of The Rotary club of New Haven, Enugu.
The award which was presented to her at a colourful event at Enugu, was in recognition numerous contributions to the society.
Speaking during the club's Installation and Investiture ceremony, the President of the Rotary Club of New Haven, Rotarian Chinyere Ikwuakor, said Onyeaka-Onyilo, was honoured with the award because of her sterling and exemplary contributions to the society, through her foundation's community projects.
Ikwuakor said there is no doubt that Onyeaka-Onyilo merits the Rotary Community Service award because of her service to the Nigerian rural communities especially women and youth through her foundation's work in supporting widows and orphans.
"We are proud to have someone like her in our society," Ikwuakor said. "It is on record that she was part of the coalition that mobilized and led about 5000 women to the National Assembly in 2011 to advocate for the passage of the National Health bill to improve the healthcare system in Nigeria. The bill was passed, signed into law and is now the National Health Act."
Responding after collecting the award, Onyeaka-Onyilo, said she was humbled with the gesture and promised to identify with Rotary Club of New Haven projects in the future. "I am deeply humbled with this award," she said, adding, "I was not expecting it. This no doubt will spur me to continue making a difference; transforming lives and empowering rural communities, especially women and youth."
Some of the projects the foundation executed include, career guidance and counselling for young people, skill acquisition and financial literacy trainings for women, community projects as well as community medical outreach and advocacy.