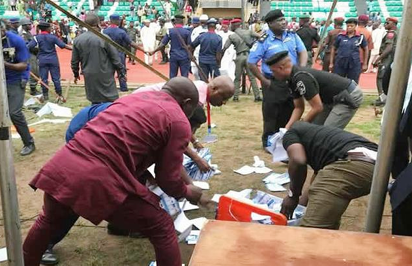 An aspirant in the disrupted Ekiti governorship primary election, Hon Bimbo Daramola, has explicitly ruled out involvement in the crisis that led to the indefinite postponement of the exercise on Saturday.
Fayemi in a statement accused Babafemi Ojudu, a former senator, and Bimbo Daramola, an ex-member of the House of Representatives, of being too desperate.
"My attention has been drawn to the press release signed by the Chief Press Secretary to the Minister of Solid minerals, Mr Kayode Fayemi. " I thought we already passed this stage in our quest for political power, Daramola said Sunday.
"The allegations are most unfounded, he declared.
"Much as I have committed to dignified silence as I have done reasonably in the past 19months, I will continue to keep myself and team in check in the face of provocative statements.
" As I have said at the post "abortion" meeting, today is not very gratifying to our people, party and reputation.
"That things went awry yesterday further confirmed that a lot of people still operate within the circumference of inordinate assumptions.
"Not only that I totally condemn the unfortunate incident which I find reprehensible. But something must have triggered that, that should be of interest to all beyond the press release where two paragraphs were devoted to tar me black!
For the press release that now describes me as a man driven by 'lust for power' is shocking.
" It is a shock for me that a man who has known me forty years, a relationship that has witnessed so many episodic moments, some good, many bad and many unseen moments.
I reiterate without mincing words and I am sure both the CPS and Minister know that its too late in the day for me to acquire an image that is not mine, I can bet it.
The release also seeks to set a standard to be complied with, to be qualified and justified to seek political position.
"Lastly, I challenge anybody to show evidences of my involvement in the unfortunate incident of yesterday for which the press release was issued to attack my reputation.
Over two dozens of the aspirants revealed that the primary cause of the crisis was the attempt by the camp of the minister of Solid minerals, Kayode Fayemi, to commit fraud with some alleging that some law enforcement officers were seen thumb printing and trying to vote as delegates.
In a video that went viral party members were seen calling the former governor, 'Ole' 'Fayemi ole' .