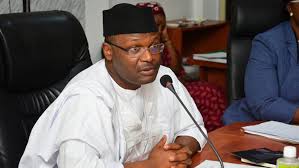 Mahmood Yakubu, Chairman of the Independent National Electoral Commission (INEC), has declared that there is room for legal action if anyone is in doubt of claims by candidates in the 2019 elections.
Speaking specifically about the personal particulars provided by the candidates, Yakubu said anyone suspecting false claims has the right to file legal action against such candidate.
THEWILL recalls that President Muhammadu Buhari had told the commission that his academic records are still with the military, sparking reactions, especially from critics of the government.
Addressing a press conference at the commission headquarters on Friday, Yakubu said any doubt on the forms submitted by the candidates regarding their personal particulars can be challenged in court.
"Any person with reasonable ground to believe that any information on form CF001 submitted by a candidate contains incorrect or false claims is at liberty to file an action against such candidate at the federal high court or the high court of a state or FCT," he said.
"While the current exercise is limited to candidates for presidential and national assembly elections, the personal particulars of those contesting in governorship and state assemblies elections will be published on November 9, 2018, one week after the close of submission of nominations by political parties."
Mahmood said while the commission is making the particulars of the candidates known, the public is to seize the opportunity to view the personal details of the candidates that seek to represent them.
"This is an opportunity for citizens to ascertain the personal details of the candidates to enable them take informed decisions on election day or even initiate legal action against candidates who they believe have made false claims on their forms," he said.