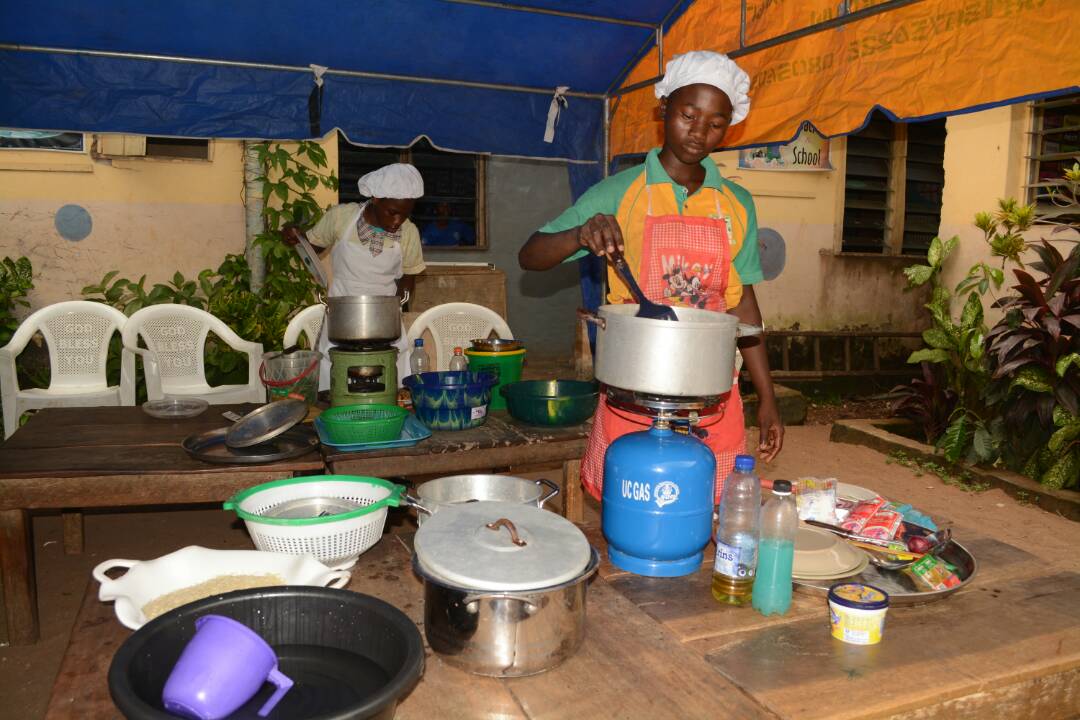 As the nation continues in search of a formula that will help it solve its growing youth unemployment problem, Tofuen Private School Ikotun, Lagos seems to have the antidote.

It was like a dream watching the children aged between nine and 12 years creating things that even their parents are still wondering where they got the skills from. But that is just a tip of the iceberg because the children at the end of the day proved that they have much more deposited inside of them and only looking for opportunity to express them.
They came from different schools, Will 'B' Excellence School, Toluens Private School and the host, Tofuen Private School, all in Ikotun area of Lagos State to participate in the 2017 edition of Tofuen Private School Home Makers' Day, to showcase their natural talents which if well harnessed could be the beginning of a new generation of Nigerians, Nigerians who are job creators and not job seekers.
The programme saw the children competing in the areas of hair dressing, bead making, tailoring, drawing and cooking with different specialists in the different fields making presentations to the children on the opportunities inherent in each of the fields and encouraging the children to see handiwork as an important part of their education.
Proprietress of the school, Mrs. Sanusi Fumilola, said learning is not all about classroom work noting that the children also need to develop their skills, their creative talents which will help them live a fulfilled life in the future.
She said: "That is why we are exposing them to skills that can help them in life so that even after their secondary school they can support themselves with the skills they have learnt here."
Mrs. Sanusi advised parents to stop giving their children the impression that handiwork is for those who are not good academically, but to encourage them to learn at least one trade as the era of white collar job is gone.
She called for support from parents and corporate organizations as any investment in the children is an investment that will yield bountifully in the future for the good of all. "We believe that through this little effort we are making today, many of these children will discover their talents and as we help them to develop them, they will actually earn a living from them and that will help reduce the unemployment and youth restiveness in our country," she said.
Coordinator of the programme, Mrs. Victoria Chibueze, a home management teacher in Tofuen, in her opening remarks informed that the school came up with the idea of the home makers' day to draw attention to the need to help children discover what they can do to make their homes a comfortable one without spending money to hire others to help them.
She said the first edition was held last year, but this year the school decided to expand it by inviting other schools.
Mrs. Chibueze who spoke highly on the need to encourage children to learn skills, said: "Nigeria's present economic situation has made it compulsory that everybody must have to put to work everything he has to live a comfortable life. Some of these children are gifted in different areas, except you expose them to situations like this, they will never know that they have them. That is why the theme for this year is 'Catch them young.' So we are using the home makers' day to give the children the opportunity to freely express themselves. From what we can see, if we continue to train them and expose them to opportunities to showcase their talents, I am sure by the time they are leaving the school, they would have been equipped not only academically, but also skillfully so that they can earn a living without being a burden on anyone."
She thanked the schools that sent their children to participate and promised that with the support of parents and well meaning individuals, subsequent editions will be bigger and the prizes better.
A teacher from one of the participating schools, Mrs. Chuks Quinsy of Will 'B' Excellence School, expressed satisfaction with the programme, noting that it was a good thing to equip children with skills that will help them in life. "My children participated in cooking and hair dressing, I am sure by next year we will participate in more of these skills."
Mrs. Chinago Ojobo, who was the chief judge at the competition, said programmes of this nature will give the children a well rounded education so that they are not only good with their heads but also good with their hands.
She said now that there is unemployment in Nigeria, if the children at an early age are exposed to entrepreneurial skills, when they grow up, they will not go looking for jobs.
She praised the performance of the contestants and the hard work displayed by those who prepared them. According to her, "Honestly the quality of the works I am seeing here shows that these children will go places if given the right support. I thank their teachers that prepared them and I hope that they will continue so that by the time these children are leaving school, they would be fully equipped to face the future."
Highpoint of the event was the presentation of prizes to winners in the different categories.