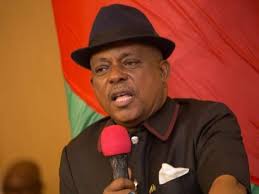 The National Chairman of the Peoples Democratic Party (PDP), Prince Uche Secondus, has urged Nigerians to caution President Muhammadu Buhari, saying his actions are detrimental to the survival of democracy in the country.
In a statement in Abuja, the PDP Chairman said it was unfortunate that President Buhari allowed the siege on the leadership of the National Assembly by security agencies to happen under his watch.
According to him, it was bad that President Buhari, who was a beneficiary of democracy in 2015, has allegedly done nothing "but destroyed every fabric of democracy and the rule of law" in the country.
He alleged that the Federal Government was using the security agencies to overthrow the leadership of the National Assembly in "order to make it comatose."