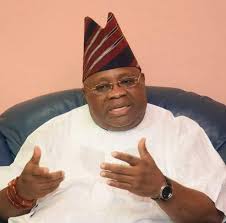 An Osogbo High Court in Osun has cleared Sen. Ademola Adeleke of the Peoples Democratic Party (PDP) to contest the Sept. 22 governorship election in the state.
Justice David Oladimeji, gave the ruling on Wednesday.
Oladimeji said the plaintiff Counsel, Mr Olufemi Ayandokun, failed to address the issue of forgery in the originating summons.
The judge held that the maker of the purported certificate must be called upon to deny the certificate issued to Adeleke before it could be described as forged.
He said the plaintiff also failed to prove the ingredients of forgery but only relied on the documents as presented to the court.
He said the case "lacks merit" and accordingly dismissed it.
The Defence Counsel, Mr Edmund Beriomoni, thanked the court for a well-considered ruling.
Two members of the PDP in the state, Rasheed Olabayo and Oluwaseun Idowu, had challenged the primary election of the party won by Adeleke, contending that he did not satisfy the constitutional requirements to contest the governorship election.
The plaintiffs among others urged the court to set aside the election, alleging that Adeleke did not submit his secondary school certificate.
Adeleke was declared the winner in the PDP primary election held on July 21.
He polled 1,569 votes to beat his closest rival, Dr Akin Ogunbiyi, who polled 1,562.