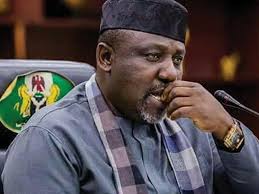 The Swearing-In of Calistus Ekenze as the new Deputy Governor of Imo state, was ongoing when it was stopped by a High Court in Owerri, the Imo State Capital.
The court ruling came in on Tuesday morning just as Ekenze was about to be sworn in at a ceremony which was holding at the Sam Mbakwe expanded Exco Chambers of the Government House in Owerri.
The Attorney-General of the state, Miletus Nlemadim, informed those gathered for the ceremony about the ruling which halted the process.
This development comes after the Imo State House of Assembly, on Monday, impeached the Deputy Governor, Mr Eze Madumere.
Madumere was impeached by 19 out of the 27 member-assembly as he was accused of absence without reasons for a period of three months and a failure to perform constitutional duties like attending state executive and security council meetings.
He was also accused of failing to attend meetings with the governor and other government functionaries as well as an alleged concealment of felonious acts in the United States.
The Speaker of the House, Acho Ihim, said the impeachment followed the outcome of a report of a 7-man panel, constituted by the Chief Judge of the state to investigate allegations of gross misconduct.
Ekenze was then nominated by the governor, Rochas Okorocha, as the Speaker read out the nomination letter on the floor of the House immediately after the impeachment.