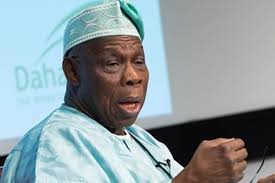 Former presidents, Olusegun Obasanjo and Goodluck Jonathan on Tuesday met for a closed-door meeting.
The photos of their meeting, which were shared by Bolanle Cole on her Twitter handle, @bolanle_cole, showed the former presidents chatting.
She wrote: "In the early hours of this morning, Former President, Obasanjo met with Former President, Dr Goodluck Jonathan in a closed-door meeting."
Former first lady and wife of President Jonathan, Patience Jonathan also appeared in the photos.
Although, no information has been released, both Presidents are engaged on a personal mission to wrest the Presidency from Muhammadu Buhari in 2019.
It would be recalled that Obasanjo had criticized Jonathan and refused to support his second term bid for the presidency.
The incident eventually saw Obasanjo tearing his membership card of the Peoples Democratic Party (PDP) and he publicly declared his support for 'anyone but Jonathan'.