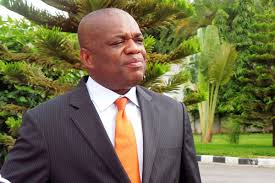 The Federal High Court sitting in Lagos has revoked ex-Abia Gov. Orji Kalu's bail for failure to appear before it.
The Economic and Financial Crimes Commission (EFCC) is prosecuting Kalu for an alleged fraud of N7.65 billion.
His trial was stalled last week due to his absence in court and his media aide, Kunle Oyewunmi, had said Kalu was absent because he was flown to Germany for an undisclosed ailment.
Kalu's lawyer, Prof. Awa Kalu (SAN), told Justice Mohammed Idris at the Federal High Court in Lagos that his client was away in Germany for a surgical operation.
He added that the ex-governor had been advised by his doctors to remain in Germany for some time to recuperate.
But the EFCC prosecutor, Rotimi Jacobs, said he was surprised at Kalu's absence from court, adding that he did not know if or when the ex-governor obtained the court's permission to travel out.
Jacobs noted that having submitted his passport to the court as part of his bail conditions, Kalu must always apply to the court for the passport whenever he wished to travel.
Describing the ex-governor's absence from court as an attempt to frustrate the case, Jacobs urged Justice Idris to interpret Kalu's absence to mean that he had jumped bail.
Ruling on the lawyers' submissions, Justice Idris noted that it was true that the matter was adjourned sine die on September 27, 2018 but Kalu was on November 2 served with a hearing notice that the case had been scheduled for Monday.
The judge also noted that the court received a mail confirming Kalu's treatment arrangement, but he said the defence counsel failed to attach any medical report to guide the court as to Kalu's post-surgery treatment.
Justice Idris said in the circumstance, he would, in the interest of justice, adjourn the case for the last time, stressing that Kalu must return from Germany within seven days and appear before the court.
The matter was adjourned till, Monday, November 12, 2018 for continuation of trial.
However, Kalu was not in court on Monday, making the judge to revoke the bail earlier granted to him.