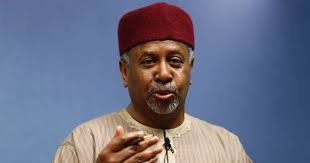 Former National Security Adviser (NSA), Sambo Dasuki, on Tuesday, wrote the court informing it of his resolve to avoid court hearing until the prosecution obeys the court's ruling on his bail.
Dasuki is facing trial at an Abuja Division of the Federal High Court for alleged illegal possession of firearms and for alleged abuse of office while he was NSA, has repeatedly been granted bail by various courts which were not obeyed by the Nigerian government despite him meeting the bail conditions.
In a letter dated November 12 and signed by Dasuki, the former NSA asked the court to: "absolve him of any obligation of appearing at his trial, since the office of the State Security Service, an agent of government detaining him has also refused to respect the various court order for his bail."
In a response, the prosecution counsel, Dipo Okpeseyi asked the court to order the continuation of Dasuki's trial in absentia arguing that the cases for which Dasuki has been denied bail are independent of the instant case and described the defendant's action as an affront to the court.
In a short ruling, the judge said the court will not grant the request by the prosecution to proceed with Mr Dasuki's trial in absentia, unless the prosecution depose to an affidavit accusing the defence of wilfully avoiding the court.
"Let me observe that this court has in its ruling of April, 10, 2018 noted that any day that the defendant is absent in court and the prosecution believes that the defendant is unwilling to attend trial, the prosecution should swear an affidavit to show that the defendant has wilfully refused to come to court," he ruled.
The judge further said the decision requested by the prosecution can only follow the applicant's compliance with the ruling of the court on April 10 and also refused to treat the request made by Dasuki in his letter and ordered the defence to properly communicate the court, for the letter to be included in its record.
The court adjourned the matter to November 19 for the prosecution to comply with the orders of the court on April 10, for a proper application for Mr Dasuki's trial in absentia.