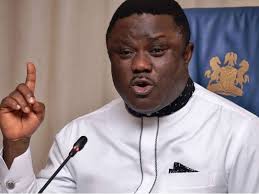 The Cross River State Peoples Democratic Party Support Group has petitioned the National Chairman of the party, Prince Uche Secondus and the National Working Committee, NWC in Abuja asking it to deny Governor Benedict Ayade the party's governorship ticket in next year's election citing breach of trust, corrupt enrichment, poor leadership and covert alliance with the ruling All Progressives Congress, APC.
In the petition titled: "Breach of trust, unlawful enrichment and conversion of state resources to personal use…" the group like several others in the state have accused Ayade of indiscriminate and reckless abuse of the state's treasury using fake MoUs and white-elephant projects (Super Highway, Deep Sea Port, etc.) to siphon cash.
National Coordinator of the group, Chief Edet Essien Asoquo, who signed the petition said: "We are a political group operating in Cross River State. Our basic objective is to mobilize grassroots support for the Peoples' Democratic Party, fight corruption, entrench party discipline and internal mechanism and promote good governance at the state level.
"As a political group desirous of overwhelming victory for our great party, we have decided to join you in thus very important and onerous task to bring sanity to the party, expose and rid our party of inept leadership, corruption and avaricious governance who have caused and will continue to cause socio-economic malaise to our dear state if left unchecked.
"It is against this premise that we are poised to write this petition to intimate you of the wanton, indiscriminate and reckless abuse of the treasury of Cross River State by the Governor of Cross River State, His Excellency Senator (Prof) Benedict Ayade.
"Mr. Chairman, the facts as presented herein are not cosmetic, cooked or fabricated, they are as true and correct as the facts can be supported by verifiable evidence.
"Therefore, we implore you to carefully read this petition to enable you understand that our action is not a political witch-hunt but rather actuated by a patriotic zeal to further entrench good governance and accountability in the state.
"Thus it will be victory for impurity and the opposition should you fail to investigate our petition and bring His Excellency Senator (Prof) Benedict Ayade and Cohort to order. We say so out of fear that that failure to do so swiftly may terribly affect the victory of the party ahead of 2019 elections.
"As a result of a myriad of bitter complaints by concern citizens of the state, party men/women of critical stakeholders in Cross River State concerning Governor Benedict Ayade and in line with our mandate, we decided to conduct some informal enquiries into how some of the policies, programmes and finances of the state are been managed by the Governor.
"Preliminary finding from our team of independent investigators revealed glaring cases of breach of trust, unlawful enrichment, deceptive administration, lies, propaganda, land grabbing and wanton conversion of public funds by Gov. Ayade Ben and the Co-Governor.
"While our investigations revealed sleaze and several cases of abuse of office, fake Memorandum of Understanding to deceive the government etc.