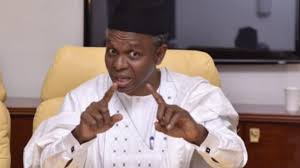 Governor Nasir el-Rufai of Kaduna State says foreign powers planning to interfere in next week's elections will "leave Nigeria in body bags."
El-Rufai said this in a live interview on NTA on Tuesday.
The governor was responding to questions on the criticisms made by the United States, European Union and the United Kingdom on the credibility of the election following President Muhammadu Buhari's controversial suspension of the Chief Justice of Nigeria, Justice Walter Onnoghen.
El-Rufai, who is a staunch supporter of Buhari and a major critique of Onnoghen, said, "Those that are calling for anyone to come and intervene in Nigeria, we are waiting for the person that would come and intervene, they would go back in body bags."
The governor admitted that Nigeria played a role in the elections in Liberia and Sierra Leone many years ago but added that it was done in collaboration with the international community and for the enthronement of democracy.
He said the foreign countries criticising Nigeria did not become stable democracies overnight but were given the opportunity to grow at their own pace without any interference.
El-Rufai added, "Nobody will come to Nigeria and tell us how to run our country. We have got our independence and we are trying to run our country as decently as possible and we know the history of those countries that are trying to teach us.
"We know their history, we also know their own stages of development and they went through these challenges. So, please let us work together, let us challenge one another but don't lecture us."
The People's Democratic Party had last week called on western powers to ensure that elections are free and fair, adding that the All Progressives Congress was planning to rig the polls.
The US and the UK had a few weeks ago threatened to place a visa ban on any Nigerian politician who rigs elections or promotes violence.