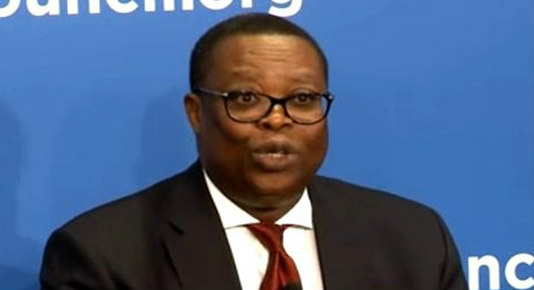 Ayodele Oke, former director-general of the National Intelligence Agency (NIA), and Folashade, his wife, were on Friday absent at the federal high court in Lagos where they were to be arraigned by the Economic and Financial Crimes Commission (EFCC).
The agency had filed a four-count charge against them in connection with $43 million, £27,000 and N23 million reportedly stashed in a flat in Ikoyi, Lagos in April 2017.
NIA had claimed ownership of the funds, saying they were part of "covert intelligence operations" but there was public outcry that it was a case of looting.
President Muhammadu Buhari subsequently ordered Oke's dismissal following the recommendation of a three-man panel headed by Vice-President Yemi Osinbajo.
Shortly after it was announced that the EFCC had charged Oke to court, a source told TheCable that the spy chief and his wife were not in the country.
They were said to have gone to an European country"for medical reasons".
Sources in the intelligence community told TheCable that subjecting Oke to open trial might compromise the nation's security operations.
"Most of the projects financed by NIA from the funds are aimed at gathering intelligence and these things are usually done through cash transactions. Government might have succumbed to public sentiments to treat it as a crime, but there will be dire consequences for the nation's security operations," an NIA operative had said.
Bolaji Akinyemi, former external affairs minister, had also opposed the open trial of Oke.
In a statement, Akinyemi, an expert in international affairs, law and diplomacy, had said the exposure of the agency to the public could pose a serious threat to officers of NIA, noting that, " normally, foreign intelligence activities are shrouded in secrecy, and not in the glare of publicity."