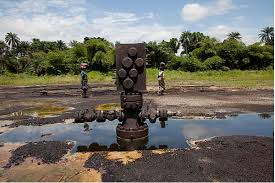 Nigeria has renewed 25 oil block licenses with a total earning of $1 billion in the last one year.
Data made available to Daily Trust yesterday by the regulatory agency – Department of Petroleum Resources (DPR) – also showed that it has granted approval for 16 new field development plans with capacity to increase the nation's oil and gas production by 560,463 barrels per day when fully commissioned.
The Nigeria Extractive Industries Transparency Initiative (NEITI) last year said in its oil and gas report that discretionary decision-making and lack of openness drove down competition and returns to Nigeria, including over $2 billion in unpaid signature bonuses.
But a source told Daily Trust that the renewal of the licenses boosted revenue for government to fund its budget and improve the nation's upstream investment by ensuring security of tenure given the long gestation and pay back period for the oil and gas investment.
Some of the oil blocks that got DPR's renewal nod were those that belong to International Oil Companies (IOC) and some indigenous oil companies, a sources told Daily Trust yesterday.
Although no available data from the DPR on the renewed licenses, Daily Trust identified some of the companies whose oil licences had expired to include AITEO/NNPC with OML 29. The oil block license expired last month; Amni's OML 112 expired on February 2, 2018; Atlas Petroleum with OML 109. The license expired since May, 2016; Conoil' OML 103 expired since March 2013. OML 111 belonging to Nigerian Petroleum Development Company, a subsidiary of NNPC expired in 2016.
In Oil Prospecting category, Sahara Energy OPL 452 expired in 2017; OPL 257 belonging to Conoil expired in 2016; OPL 289 owned by Cleanwaters consortium expired in 2012; Conoil' OPL 240 expired in 2016; Crownwell Petroleum OPL 305 expired in 2016; Essar Exploration and Production's OPL 226 expired in 2015 and Newcross Petroleum's OPL 276 expired in 2017.
OML is usually granted only to the holder of an oil-prospecting licence (OPL), upon meeting set regulations, and the term of the licence shall not exceed 20 years, and may be renewed in accordance with the Petroleum Act.
DPR in its 2017 Service Requirements release, said oil companies seeking to renew their oil licenses or leases would be expected to pay a statutory application fee of $2 million.
Alfred James Nigeria Limited's OPL 302, which was awarded in 1991, expired since 2001; Continental Oil and Gas's OPL 2007, expire since October last year; while Summit Oil International OPL 206 expired in 2014.
Amalgamated Oil Company Limited's OPL 425, which was given licence in 1992, is expected to expired on May 23 this year.
OPLs 305 and 306, which belong to Crownwell Petroleum Limited was due to expire in June this year.
Also, KNOC's deep offshore OPLs 321 and 323 have already expired since March 9, 2016.
However, it was further learnt that 19 expired leases in 2017 had been renewed to enhance upstream investment influx and accelerate  oil and gas reserves and production growth.
In similar vein, DPR is said to have issued 10 new licenses for development of gas production and processing facilities that culminated in the commencement of operation (license to operate) of 2.5 million tons per annum fertiliser plants.
A source said the regulatory agency has also issued new guidelines for the determination of quantity and quality of petroleum products in the country.
The total income generated by DPR within the period was N747,614,888,823.04 for the federation.
Daily Trust