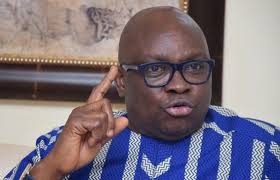 The Peoples Democratic Party (PDP) has raised an alarm over an alleged plot by the All Progressives Congress (APC) to impeach the Ekiti State Governor, Mr Ayodele Fayose.
In a statement on Thursday by their National Publicity Secretary, Kola Ologbondiyan, the party warned that such move would attract dire consequences.
They claimed that the ruling party was planning to use the security agencies to achieve the purported impeachment which they described as a recipe for a crisis in the peaceful state.
The party alleged, "The PDP is aware that the plot is a desperate bid by the APC to rush into the Ekiti Government House to remove and tamper with documents and evidence confirming the rigging of the July 14 governorship election, ahead of the sitting of the election tribunal.
"Having realised that there is no way their daylight robbery at the poll can stand in the court, the APC is now employing all desperate means to subvert the course of justice."
The PDP claimed further that a detachment of police was "deployed to besiege the Ekiti State Assembly Complex" on Wednesday night.
According to them, this was done without a formal request by the Speaker, the Clerk, or the Sergeant-at-Arms, who is the Chief Security Officer of the complex.
The PDP, however, vowed to resist any resort to underhand measures to impeach Fayose without the constitutionally required 2/3 of the members of the House, at a time when the lawmakers were on their annual recess.
"Now that the political and parliamentary establishment of the Ekiti House of Assembly has loudly declared that they do not require the services of the detachment of policemen, PDP charges the APC to immediately withdraw their armed agents from the premises of the House of Assembly," they stated.
The opposition party also urged the judiciary to be firm in standing by the truth on the Ekiti governorship election and not be cowed or intimidated by threats from anyone.
They echoed their claim that the poll was rigged, saying Nigerians know the truth and were looking up to the judiciary for justice in the matter.