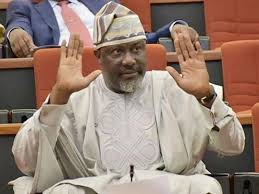 A Senior Magistrate's Court sitting in Kogi on Thursday adjourned the trial of the senator representing Kogi West Senatorial District, Dino Melaye, and two others for illegal possession of firearms and arms dealing, till August 9.
The Senior Magistrate, Sulyman Abdullah, adjourned the case due to the absence of the lead prosecution counsel, Dr. Alex Izinyon.
The Officer in Charge of legal department of Kogi State Police Command, Mr. Theophilus Oteme, told the court that Izinyon had an emergency call that made it impossible for him to appear in court.
Oteme therefore applied for an adjournment till September 23 for the commencement of trial following the absence of the lead prosecutor and because Melaye was not in court.
However, the lead counsel to Melaye, Chief Mike Ozekhome, represented by Mr. Yemi Mohammed, told the court that he had on good authority that Melaye was attacked in Gwagwalada, Abuja, on his way to Lokoja.
"I learnt that he was attacked on Thursday in Gwagwalada on his way to Lokoja to attend his trial and up till now, I have not been able to reach him, I don't know where he is at the moment," Ozekhome said.
The Magistrate turned down the prosecution's application for a long adjournment.
He said the Kogi State Administration of Criminal Justice Law did not allow for an adjournment beyond two weeks in a criminal case.
He adjourned the case till August 9 and ordered that the bail earlier granted to Melaye continued.
Meanwhile, Senator Dino Melaye has been reportedly kidnapped by unknown gunmen in the Gwagwalada area of Abuja on Thursday morning.
Melaye's abduction was disclosed by Senator representing Bayelsa East in the National Assembly, Ben Bruce, via his Twitter handle.
In a tweet on Thursday, Senator Bruce disclosed that Melaye's brother, Moses informed him of the lawmaker's abduction.
"I have just been informed by Moses Melaye, @dino_melaye's brother, that Dino has been abducted by unknown persons in a Toyota Sienna that blocked their car and overpowered them on their way to Kogi to answer to Dino's court case. Lets be on the watch out. Will keep you updated," he tweeted @benmurraybruce.
Melaye was among the 14 senators who defected from the All Progressives Congress (APC) on Tuesday the Peoples Democratic Party (PDP).
He is facing separate charges for allegedly aiding criminals and attempted suicide and was scheduled to report to the office of the Kogi police commissioner, Ali Janga, by 10:00 a.m. today.