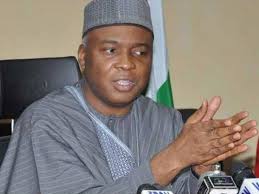 It has been gathered that Senate President Bukola Saraki asked the Inspector General of Police (IGP), Ibrahim Idris, to send his personnel to his office to take further statements on the robbery incident that took place in Offa, Kwara state.
The IGP, on Monday night, asked Saraki to report to the office of the intelligence response team (IRT) over the robbery incident following allegations that the suspects arrested in connection with the incident named Saraki as their sponsor.
But Saraki, responded to the IGP, in a letter dated July 24, saying that if the police wanted additional information, they were to either send a police personnel or get a written response from him.
"For the record, I should mention that I received your letter at 8:30 pm on Monday 23rd July, 2018, inviting me for the next day at 8am. The two lawyers whose advice I needed were in Calabar and Lagos and have to travel to Abuja today," the letter read.
"As you are aware, the deputy president of the senate was on unable to leave his residence this morning to preside over the senate having been prevented from doing so by security agents. If he had been able to preside over the senate, I would have honoured your invitation.
"The absence of both presiding officers would have voided the sitting of the senate. This would have been damaging to national interest, particularly in the light of very important legislative matters that needed to be addressed in view of the imminent recess of the national assembly.
"These included consideration of the electoral bill which was incidentally passed today. You will recall that Mr President had earlier directed as a courtesy to this office that in the event of any request for further information from me, you should either send your personnel to my office or obtain a written response from me.
"I need to place on record as well, that following the incident of being harassed and threatened at my residence by the police early this morning, I'm deeply concerned over my physical security. I request you therefore, to please assign your personnel who need information on this matter to meet me in my office immediately plenary, today or tomorrow or at any other day at your convenience."