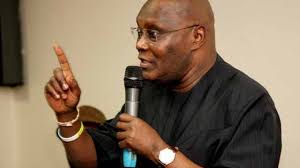 The Federal Inland Revenue Service (FIRS) has dismissed rumours that the premises of Integrated Logistic Limited (Intels) had been shut by the enforcement team of the agency over non-fulfilment of its mandatory tax obligations. It said it's officers only issued a warning to the firm to remit long due federal taxes.
There were reports on Monday that Intels, an oil services company linked to former Vice President Atiku Abubakar, had its Headquarters in Onne, Rivers State, sealed by the FIRS due to unremitted taxes.
However, the Spokesman of FIRS, Wahab Gbadamosi, said what the staff of the agency did at Intels premises in Onne, was to paste a Notice of Non-compliance sticker on the facility.
According to him, such move was normal as many companies in the country carry such stickers as a reminder of the need to fulfil their tax obligations.
"It does not in any way halt or affect the company's (Intels) operations. It's not even a punitive move. It's like a reminder to fulfil their obligations, especially on the Company's Income Tax (CIT) and Value Added Tax (VAT) as enshrined in their respective Acts," he explained.
"It's part of our compliance procedures. It is because of the political atmosphere in the country today that people are reading wrong meanings to it. It's nothing other than our compliance procedure."
It was also gathered that the Nigeria Free Zone Authority also wrote to Intels, accusing the oil services company of operating illegally, within the zone which means that the appropriate authorities such the Immigration Service may ask most expatriates operating at Intels to leave.
But there are concerns that the latest "attack" on Intels may be connected to Atiku's rumoured interest in contesting for the presidential election in 2019.
It would be recalled that the Nigeria Ports Authority (NPA) recently cancelled its multi-billion dollars contract with Intels via a statement saying it acted based on advice by the Attorney-General of the Federation and Minister Of Justice, Abubakar Malami, SAN.