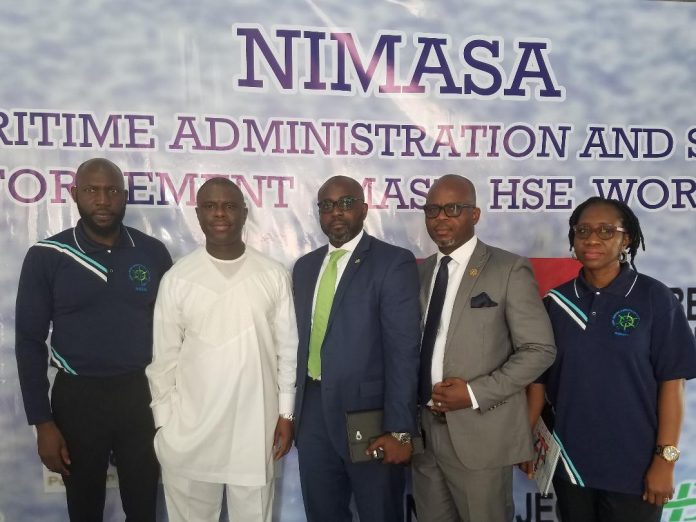 Heritage Bank PLC and Nigerian Maritime Administration and Safety Agency (NIMASA) have joined forces to educate stakeholders about the maritime enforcement global benchmarks.
The training session, which had as its theme: Maritime Enforcement Safety: Current Global Benchmarks, had representatives of these organizations present: Nigerian Navy, Nigerian Ports Authority, Lagos State Safety Council, Shippers Council, Marine Insurers, Maritime & Dockworkers Safety Inspector and Marine Police.
Addressing participants at the workshop held at the premises of NIMASA in Apapa, Victor Amakwe, Group Head, Private Banking, Private Wealth Management, Heritage Bank; said at Heritage Bank, we understand the importance of health safety, which implies that every working environment or workplace is kept in an organized, uncluttered, and hazard-free condition.
According to him, the benefits of doing this are far-reaching, and affect not only workers' safety but also their health and productivity. "Improvements in worker health and productivity, in turn, lead to lower operating costs thereby providing benefits to both the workers and the employer", he stated.
Amakwe commended the NIMASA for its commitment to the enthronement of global best practices in the provision of maritime services in Nigeria, whilst ensuring effective maritime safety administration using modern tools that guarantee efficiency and effectiveness, towards developing indigenous capacity and tackling hindrances on our waterways.
He therefore assured the audience at the occasion that as a generational bank with excellent service culture hinged on working with each customer to create a name and heritage for today and future generations, Heritage Bank will continue to support and partner NIMASA on its drive for maritime safety and enforcement.
In his speech, Dr. Dakuku Peterside, Director-General/Chief Executive Officer, NIMASA, acknowledged that the mandate of his organization is to ensure that any vessel using Nigeria's waterways, both onshore and offshore, are safety conscious.
According to him, as a safety administrator, NIMASA cannot be enforcing safety when it is not operating in a safety environment. He emphasized that the safety standards are globally set and managed for the benefit of all nations.
Peterside though noted that unlike before, there has been tremendous improvement in the way NIMASA staff and other stakeholders in the maritime sector adopt the global safety standards, there is room for improvement. "We are itching closer to it every day', he stated.
The NIMASA boss explained that the workshop was organized to promote a culture of safety in operations of all stakeholders; for self-examination of each operation environment; and to evaluate the global best practices. "In NIMASA, we are determined to give you every support you require to ensure a new culture is put in place in our workplaces," he concluded.