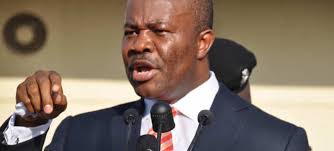 Tumultuous crowd hits Ikot Ekpene township stadium on Wednesday for the reception of former Senate minority leader, Senator Godswill Akpabio who is formally defecting to the national ruling All Progressives Congress (APC).
Akpabio is defecting along with many of his supporters from the Peoples Democratic Party (PDP).
The National Women Leader of APC, Alhajia Salamatu Umar, described the huge crowd at the stadium as unprecedented.
"Nigerian women are proud of Akpabio," she said.
She praised Akpabio for the transformation that has taken place in Akwa Ibom.