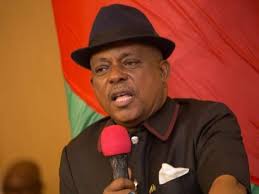 The National Chairman of the Peoples Democratic Party (PDP), Prince Uche Secondus, has asked President Muhammadu Buhari to resign over the National Assembly invasion by security forces.
Secondus made this known in a statement by his Media Aide, Ike Abonyi, saying the invasion was an indication that President Buhari and the ruling APC were out to destroy the nation's democracy.
Secondus claimed that the plan to invade the National Assembly was perfected when Senator Godswill Akpabio, met with President Muhammadu Buhari in London, few days ago.
"The final plan for the invasion of National Assembly was concretised when the Minority Leader, Senator Godswill Akpabio visited the President in London at the weekend.
"Nigerians and the international community have continuously watched this administration, harass and intimidate the legislature and judiciary as well as others in opposition in their bid to create a dictatorial regime.
"Therefore, I call on President Buhari to resign and pave way for the sustenance of democracy since it is now obvious that he has lost legitimacy to continue as an elected President," Secondus said.
Secondus, however, commended Vice President Yemi Osinbajo for sacking the Director General of the DSS, Lawan Daura, saying that showed Nigeria cannot be hijacked and ruled by a cabal.