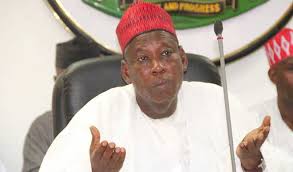 Ten aides of Abdullahi Ganduje, governor of Kano state, have tendered their resignation letters.
NAN reports that one of the former aides, Abdullahi Zubairu Chula, disclosed this while briefing journalists in Kano.
Their resignation came barely two days after Hafiz Abubakar, former deputy governor of the state, stepped down.
Abubakar joined the Peoples Democratic Party (PDP) after resigning on Sunday.
According to NAN, Chula said their decision was informed by their desire to join Abubakar, their leader.
"We decided to resign because our leader, the former deputy governor, Prof Hafiz Abubakar has also left the government," he said.
"We felt it necessary to leave this government because we cannot continue to stay in a government where our leaders felt threatened."
Chula, the special adviser on non-governmental organisation, said among those who also resigned are Shamsu Aliyu Samanja (senior special assistant on public affairs) and Hafizu Bichi (special adviser attached to deputy governor's office).
Others are Bakari Ado Hussaina (special adviser on education), Namoda-Birnin (special adviser on graveyard), Habibu Abubakar (senior special assistant) and Idris Salisu Rogo (SSA attached to deputy governor's office).
The rest are Usman Kassim Bichi (special assistant to deputy governor on education), Hafizu Alkali Jingau (PA at deputy governor's office), Shamsu Kura (special adviser media) and Rukayya Jibrin (senior special assistant on drug).
He said all the 10 aides had since forwarded their resignation letters to the secretary to the state government.