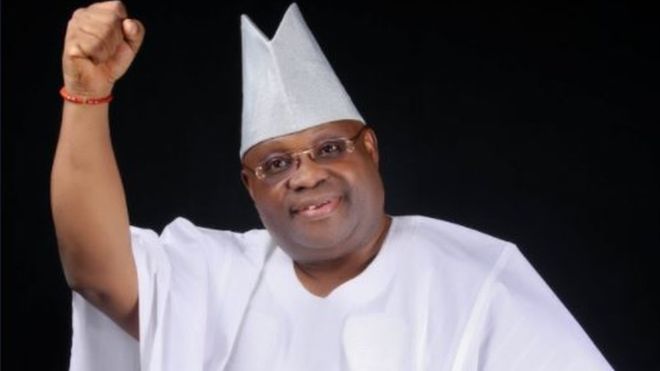 Senator Ademola Adeleke of the Peoples Democratic Party, PDP, pulled off a stunning upset in heavily APC state of Osun, forcing the election to a re-run in what many say will chart a new direction for the state's politics.
INEC official result:
APC= 254,345
PDP 254, 698
PDP's Adeleke led with 353 votes.
Voters expressed their general discontent with the ruling party in many areas. The Osun gubernatorial elections shows the APC has weakened, despite still being popular in some areas. Senator Adeleke benefitted from a fragmented ruling party with discord among members who moved out of the party weeks to the elections.
RESULTS
1.Boluwaduro LG: APC 3843, PDP: 3779, SDP: 1766, ADP: 858
Atakumosa West LG : APC: 5019, PDP: 5401, SDP: 1570, ADP: 718
Ifedayo LG: APC: 3182, PDP: 3374, SDP: 1377, ADP: 176.
Ede South: APC: 4512, PDP: 16693, SDP: 855, ADP:
Orolu LG: APC: 5442, PDP:7776 , SDP: 2043 ADP: 388, ADC:79.
Obokun LG: APC: 7229, PDP: 10859, SDP: 1907, ADC: 106, ADP: 663
Ilesha East LG: APC:9790 , PDP:8244 SDP:3620 , ADC: 188, ADP: 1275(APC)
Boripe LG: APC: 11655, PDP: 6892, SDP: 2730,ADP:1137, ADC: 137(APC)
Ilesha West: APC: 7251, PDP: 8286, SDP: 2408, ADC: 127, ADP: 2363(PDP)
Oriade LG: APC: 9778, PDP: 10109, SDP: 2265 , ADC: 109, ADP: 1224
Irepodun LG APC: 6517, PDP: 8058, SDP: 4856, ADC: 158, ADP: 2564(PDP)
Ila LG APC: 8403, PDP: 8241, SDP:3134, ADC: 96, ADP: 183(APC)
Isokan LG APC: 7297, PDP: 9048, SDP: 3460, ADC: 56, ADP:682(PDP)
Odo-Otin LG APC: 9996, PDP:9879, SDP: 2941, ADC: 1034, ADP: 1112(APC)
Ayedaade LG: APC 10861, PDP: 9836, SDP: 2967, ADC: 145, ADP: 1645(APC)
Atakumosa East LG APC: 7073, PDP: 5218, SDP: 2140, ADC: 06 , ADP: 629(APC)
Ede North LG APC: 7025, PDP:18745, SDP: 1382 ADC: 89, ADP: 758(PDP)
Ifelodun LG APC: 9882, PDP:12269 , SDP: 1970, ADC: 236, ADP: 2844, (PDP)
Ayedire LG APC: 5474 , PDP: 5133, SDP2396:, ADC:144 , ADP:1642, (APC)
Ife North APC: 6527, PDP:5486, SDP:5158, ADC:94, ADP: 745, (APC)
Ejigbo LG APC: 14779, PDP: 4803, SDP4803:, (APC)
Egbedore APC: 7354, PDP:7231 , SDP: 3367
Ife Central: APC:6957 , PDP:3200 , SDP:20494 ADC:194, ADP:1053
Irewole LG: APC: 10049, PDP: 13848, SDP: 1142, ADP: 1915(PDP)
Olorunda LG APC: 16254, PDP: 9850, SDP:7061, ADC:335, ADP:1407, (APC)
Ola-Oluwa LG APC: 5025 PDP: 4026 SDP: 2104 ADP: 2194 ADC: 1408(APC)
Ife South LG APC: 7223, PDP:4872, SDP: 6151, ADC:136 , ADP:561. (APC)
Ife East: APC: 8925, PDP: 6608, ADC: 237, ADP: 509, SDP: 17643
Iwo Local Government APC: 7,644 , PDP: 6122, ADP: 16, 425, ADC: 1164, SDP: 4153
Osogbo LG APC: 23379, PDP: 14499, SDP: 10188, ADC: 413, ADP: 2478