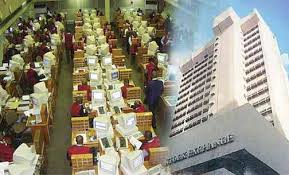 Nigeria raised 56.05 billion naira ($179 million) in a bond auction on Wednesday, less than half the amount on offer as domestic pension funds and insurance firms cut orders due to low yields, traders said on Thursday.
The Debt Management Office (DMO) offered 135 billion naira worth of bonds maturing in 2021, 2027 and 2037, but investors shunned the auction to take positions in the relative liquid secondary market.
The DMO paid 16.80 percent for the 2021 and 2027 bonds and 16.90 percent for the 2037 debt. Investors demanded yields as high as 17 percent, auction results showed, to help boost returns further above inflation, which was 16.1 percent in June.
Reuters reports that Pension funds and insurance firms cut back their demand … because of expectations of higher yields," one dealer said, adding that those two sectors, which dominate the local bond market, subscribed for just 63.65 billion naira.
Nigeria, Africa's biggest economy, is planning for a budget deficit of 2.36 trillion naira this year as it tries to spend its way out of recession. It expects to raise funds from the local market to cover more than half the deficit.
The DMO issues bonds every month.
At Wednesday's auction, the debt office sold 9.18 billion naira worth maturing in five years, 17.51 billion maturing in 10 years and 29.36 billion maturing in 20 years.