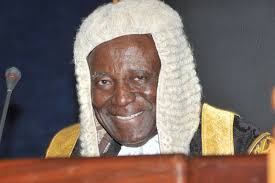 Former President of the Senate, Senator David Mark has described the death of former Chief Justice of Nigeria (CJN), Justice Legbo Idris Kutigi as a colossal loss to the nation.
Reacting to the demise of the late jurist in Abuja, Senator Mark said: "Justice Kutigi was a legal luminary who lived and worked for his country and humanity."
Senator Mark noted that Kutigi as Attorney General, Commissioner for Justice in Niger State and CJN demonstrated selfless service and made landmark judicial pronouncements which enriched jurisprudence and public policy.
He said: "Kutigi was a man of unquestionable integrity who never compromised acceptable standard and rule of law no matter whose ox was gored."
According to Mark, his death at this time is a monumental loss to the nation, adding that he died when his wealth of experiences and services are most needed.
He added that Kutigi would be greatly missed for his frank disposition, transparency and strict adherence to the independence of the Judiciary.
Justice Kutigi, he said, would be remembered for his mentoring role on judicial officers, his legacy of hard work, steadfastness, fairness and equity.
Senator Mark prayed that God grants him eternal rest just as he asked the immediate family, government and people of Niger State to take solace in the fact that late Kutigi lived an accomplished life worthy of emulation.