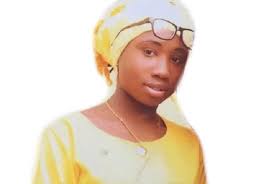 Rebecca Sharibu, mother of abducted Dapchi schoolgirl, Leah, has denied reports saying she sued the federal government for failing to secure the release of her daughter.
Several publications reported that #LeahSharibu's mother is suing Nigeria's federal government for more than $1m. CNN made multiple calls to Rebecca Sharibu and she strenuously denied reports that she had filed the lawsuit
Leah Sharibu was among the 119 students of Government Girls Secondary School, Dapchi, Yobe state, abducted by Boko Haram in February.
All the abducted girls were subsequently released, except five who reportedly died in detention but Leah was held back by the insurgent group for "refusing to renounce her faith".
In a suit reportedly filed at the Federal High Court in Lagos, Rebecca was said to have sought N500 damages over the government's "dereliction of duties".
Joined as defendants in the so called suit are Ibrahim Idris, Inspector General of Police (IGP), and Abubakar Malami, Attorney-General of the Federation (AGF).
The suit was jointly filed with Daniel David Kadzai and Lift-Up-Now Incorporation, a US-based organisation.
Among the prayers the plaintiff sought from the court is an order "directing and mandating the defendants to secure the immediate and unconditional release of the plaintiff from the custody of her captors forthwith".
The plaintiff is also seeking "an order compelling the defendants to employ every means in securing the plaintiff from the custody of her captors; an order compelling the defendants to pay the plaintiff the sum of N500 million being compensation for the indignities and human deprivations suffered by the plaintiff as a result of the defendants' dereliction of statutory duties in securing her release from her captors since the month of February, 2018 till date of this action".
However, Rebecca has denied having knowledge or interest in the suit saying all she's interested in is the release of her daughter.
The Islamic State West Africa Province (ISWAP), a faction of Boko Haram, has kept Leah in captivity for seven months, sparking public outrage.
Leah had in August appealed to President Muhammadu Buhari to rescue her as the insurgents recently threatened to kill her.
Rebecca Sharibu, the mother of Dapchi schoolgirl, #LeahSharibu who has been in Boko Haram captivity since February, spoke to CNN this morning and has denied reports that she is suing the federal government of Nigeria for damages.