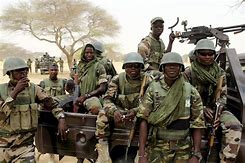 March 9, 2018 0
The Defence Headquarters (DHQ) has denied the claim by the Deputy Senate President Senator Ike Ekweremadu that the Army could take over power, saying the "Military has no political ambition."
In a statement by Brigadier General J. A. Agim, acting director, defence information, yesterday, the Military emphasised that "The Defence Headquarters wish to state clearly that, the Nigerian Military has come of age and is in tune with best international military practices of complete and total subordination to democratic governance,".
Last Wednesday, Senator Ike Ekweremadu, Deputy Senate President, had while contributing to a debate on a motion sponsored by Senator Ahmed Ogembe, representing Kogi Central, remarked thus: "The Problem in Nigeria is that our democracy is receding. Who says army cannot take over, let us not joke with our democracy that is the issue".
This statement was however, interpreted by the Military as derogatory, noting that though the comment may appear cautionary and sincere within the context it was used, it appeared nonetheless derogatory to the Army and indeed to the Armed Forces of Nigeria.
"The statement in the true sense has the capacity to denigrate the Nigerian Military in every ramification including its loyalty to the President Commander in Chief of the Armed Forces and the confidence of the general public to defend Nigeria's democracy", Agim remarked.
He reassured members of the public of the Military's unwavering support for the Muhammad Buhari administration and defence of democracy in the country.
In recent past, relations between the executive arm and legislative arm of government had not very cordial.
The House of Representatives and the Senate recently passed a bill reordering the conduct of the 2019 general elections, making the Presidential election to come last instead of holding first as initially proposed in an election timetable issued by the Independent National Electoral Commission. President Buhari views this move as designed to put him in a disadvantaged position for the 2019 Presidential election.
The Senate had also rejected the confirmation of some persons nominated by President Buhari for headship of some federal agencies, but the President has yet to replace them for over a year running.
These developments appear to have heightened tension between the National Assembly and the Presidency.