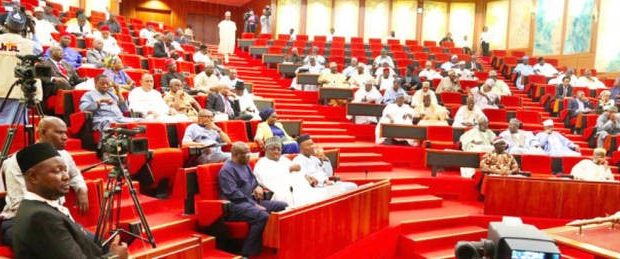 March 9, 2018 0
The Senate yesterday referred an alleged plan to sack its key functionaries to the Senate Committee on Ethics, Privileges and Public Petitions.
At the Senate plenary on Wednesday, Senator Obinna Ogba (PDP, Ebonyi Central), alleged that some senators were working behind the scenes to mobilize civil society groups and trade unions to protest against the Senate leadership and bring the leadership of Senate President Bokola Saraki and Deputy Senate President, Ike Ekweremadu, into disrepute.
Alerting the Senate of this alleged plan through 'point of order', Ogba said the ultimate objective of the group was to ensure that the entire Senate leadership is sacked.
He urged the Senate to look into this, cautioning that senators should not work underground to destabilize the Senate, but should rather feel free to raise any issues they are not comfortable with on the floor of the Senate.
"As we are here, if there is any issue bothering you, you have the opportunity to raise it and not to go outside the chambers to start planning civil organisations and market women to demonstrate against the leadership of the senate," Ogba remarked.
The Ebonyi born Senator added: "I want this matter to be investigated properly. I have evidence to show what I am saying. There is record of a telephone discussion between Senator Abdullahi Adamu and some other people which every other person can also print out".
He said that the matter should be taken seriously, recalling that when Senator Isah Misau raised it in January this year, nothing was done about it.
Harping on Ogba's submission, Deputy Senate President, Senator Ike Ekweremadu, said preserving the sanctity of the Senate is very paramount in order to ensure that the country's democracy is not compromised.
He noted that the key difference between military regime, autocracy, and democracy is the parliament.
Ekweremadu stated that "Whatever we do we must continue to preserve the sanctity of the parliament. So I want to stress again that any person interested in destabilising this country is not doing us any good. We have received this information from Ogba, so we will refer it to our committee on petitions to look at it and report back in two weeks.
The Deputy Senate President subsequently referred the issue to the Senate Committee on Ethics, Privileges and Public Petitions for proper investigation.