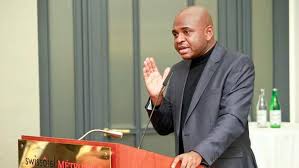 Former Central Bank deputy governor Kingsley Moghalu has stated that he will still contest for President in the 2019 elections.
The former United Nations official said the outcome of the consensus candidate of Presidential Aspirants Coming Together (PACT), which he was part of, has 'left many Nigerians expressing surprise and disappointment.'
Another aspirant, Fela Durotoye, had emerged as the PACT consensus candidate which Moghalu was part of.
Young presidential aspirants came together to form a coalition to field a sole candidate for the Presidential election in 2019. The candidate was elected after a two-staged voting process that saw Durotoye score 4 votes and Kingsley Moghalu, 3 Votes.
However, Moghalu has claimed dissatisfaction with the election process citing the withdrawal of candidates from the process as his reason for pulling out of the PACT insisting that he is 'pressing ahead' with his plan to run for president in 2019.
In a series of tweets on his official handle, Moghalu implied that the process that led to Durotoye's emergence was flawed and made it clear he would continue his quest to be Nigeria's president on another platform.